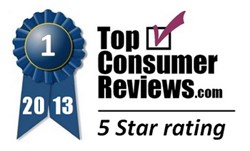 We're excited to have received the highest rating for Auto Loan providers from TopConsumerReviews.com... Thank you for recognizing our hard work.
Overland Park, KS (PRWEB) October 10, 2013
TopConsumerReviews.com recently awarded their highest five-star rating to CARCHEX, an industry leader in Auto Loans.
"We're excited to have received the highest rating for Auto Loan providers from TopConsumerReviews.com," said Lawrence Dorman, Marketing EVP for CARCHEX. "CARCHEX already takes pride in providing our customers the highest quality auto warranties and vehicle inspections, and our effort with auto loans is no different. Our strong company history has given us access to work with a large database of lenders. By doing business with CARCHEX, our customers are able to find a convenient and affordable loan option that works best for them. Thank you for recognizing our hard work."
The days of being limited to auto loan terms available at the local car lot or bank are a thing of the past. A number of auto loan companies exist today that provide a simple and friendly online auto loan application and approval process that eliminates any hassle or embarrassment associated with applying in person. For those that have less than perfect credit, finding an auto loan online means a greater chance of approval.
Often these online auto loan companies work with a large database of lenders to help consumers find the best deal. Shopping for an auto loan via the Internet also means the potential to save hundreds or even thousands of dollars over the life of the loan when customers receive the most competitive rate available.
"CARCHEX offers consumers the end all, be all for auto loans, "explained Brian Dolezal, of TopConsumerReviews.com. "CARCHEX has been in business for over 10 years and holds a perfect A+ BBB rating. With CARCHEX, you simply complete an application and they go to battle to find the best car loan terms for you. We also liked the easy navigation and information found with this website – making the car loan process simple and streamlined. Their commitment to quality and their customers have pushed them to the top of the companies we reviewed."
To find out more about CARCHEX and other auto loan companies, including reviews and comparison rankings, please visit the Auto Loans category of TopConsumerReviews.com at http://topconsumerreviews.com/auto-loans/.
About CARCHEX
Headquartered in Hunt Valley, Md., CARCHEX is the premier provider of Extended Vehicle Protection (commonly referred to as Extended Auto Warranties) and Mobile Auto Loans. As the preferred partner to the most trusted names in the automotive industry including Carfax, Kelley Blue Book, Cars.com, LendingTree Autos and many more, CARCHEX provides customized coverage plans that allow consumers whose factory warranty has expired to get the highest level of protection for their vehicle at the most competitive price. A decade-long commitment to protecting automotive consumers and providing exceptional customer service has translated into an A+ Rating by the Better Business Bureau.
About TopConsumerReviews.com
TopConsumerReviews.com is a leading provider of independent reviews and rankings of hundreds of consumer products and services. From auto loans to extended car warranties and auto insurance, TopConsumerReviews.com delivers in-depth product evaluations in order to make purchasing decisions easier.