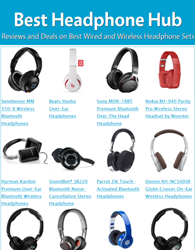 The difference of sound-quality between poor-quality headphones and good-quality headphones can be like night and day, even for non-audiophiles.
Los Angeles, CA (PRWEB) September 20, 2013
There are a variety of Bluetooth headphones ranging from single-ear MONO headsets to around-the-ear full STEREO headphones. However, some of them have problems related to the 4 deficiencies, (i) Poor audio-quality, (ii) Dropped Bluetooth connections, (iii) Poor noise cancellation and noise-isolation, and (iv) Poor design/fit etc. Weeding out headphones with such limitations is now possible thanks to the recently published List of #1 Recommended Best Bluetooth Headphones.
The above list on http://BestHeadphoneHub.com/ reveals the No 1 Recommended pair of headphones as well as the most wallet-friendly headphones for each of the following 4 categories: (i) Around/Over-the-ear Bluetooth Headphones (a.k.a. circum-aural), (ii) On-ear BT headphones (a.k.a. supra-aural), (iii) In-ear headphones (a.k.a. Bluetooth ear buds/wireless earbuds), and (iv) single-ear MONO Bluetooth headsets. It is a highly recommended read for anyone intending to purchase a pair of Bluetooth or wired headphones. The best quality Bluetooth headphones come from not-only popular brands like Audio-Technica, Beats, Bose, Dennon, Klipsch, Plantronics, and Sennheiser, but also from brands that are not very popular like ECSEM, LG, MEElectronics and Parrot Zik. For example, while the title of Best Over-the-ear Bluetooth Headphones goes to Bose, the title of best On-ear Bluetooth headsets goes to MEElectronics.
The review specifically emphasizes the importance of certain specs like the frequency response (e.g. 5 Hz – 28,000 Hz), impedance (e.g. 16 Ohms at 1KHz), driver diameter (range from 9 mm to 50 mm) etc. These are important features that determine the clarity, loudness, and spectrum of the audio-output. Not every pair needs to be audiophile-grade, however, they should reproduce the highs (frequencies > 4000 Hz; treble), the mids and the lows (<400 Hz; bass) with decent accuracy in a balanced manner. Examples of common complaints on poor-quality headphones include "poor bass and too much treble" or "overpowering bass drowns the clarity of mids and treble". The difference of sound-quality from such an inferior-quality pair and a relatively good pair of headphones can be like night and day, even for non-audiophiles. This is true for both Bluetooth wireless headphones as well as regular wired headsets.
The different lists of best Bluetooth headsets also considers their 'advanced-feature richness'. The most noteworthy features to look for other than audio-quality are noise cancellation and noise isolation. The former refers to negating ambient/external noises and the latter refers to minimizing leakage of sounds out of the head/earphones. Headphones with Active Noise Cancelling are usually more expensive than others. However, if one's lifestyle requires noise cancelling and/or noise isolation, such as in the case of those who commute on noisy buses/trains, the investment is well justified as long as it is spent on the right Bluetooth headset. The TOP 3 most popular noise cancelling headphones can be found on http://bestheadphonehub.com/best-noise-cancelling-headphones/
In addition to the details on Best Bluetooth Headphones (wireless), they have also published reviews of popular wired stereo headphones for those who would rather have the wires.