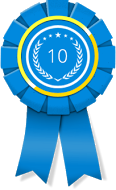 NEW YORK, N.Y. (PRWEB) April 28, 2017
10 Best Design is excited to reveal the winners of its monthly Best Brand PR Agency award. The winners for April 2017 include industry leaders such as Relevance, Top Hat IMC and Prophet.
Branding is something that modern businesses need to accomplish if they want their products to stand out in the market, but most businesses do not have the necessary tools to create the best branding message for their business goals. Fortunately, there are numerous digital marketing and public relations companies out there that provide such comprehensive services. There are so many, in fact, that brands might not know which sort of PR agency they should seek. How can a business know if an agency has the ability to help them reach their ideal visibility and reputation?
10 Best Design wants to make that search easier for all brands hoping to reach new levels of customer engagement and satisfaction. They collect comprehensive data about the most trusted agencies in the field, and they use that information to rank the top ten members of the industry every single month. They have to update their lists every month to keep them current, and the winners for April 2017 have been announced recently. All ten winners for the top ten list are published online, and the top three award recipients are outlined below.
Relevance is the best brand PR firm for the month of April. Headquartered in New York City, Relevance is commonly referred to as one of the best agencies in the field of brand PR. They have the leadership and exquisite skills necessary to make a positive impact on any brand's public image. They specialize in content creation, brand building, PR services, and much more.
Top Hat IMC is ranked second among the leading brand PR agencies for April 2017. Top Hat IMC, which is located in Pittsburgh, has achieved new levels of success in business. The company focuses primarily on market research, brand management, web presence optimization, and brand strategy. When combined, all these services work to increase the visibility of any brand.
Prophet is a world-class branding agency with offices located in London, Berlin, the United States, Zurich, and Hong Kong. In its efforts to be a leading brand PR business, Prophet provides stellar brand management services. The company can transform any brand's public image into something that will work for the brand while maximizing potential for new clients.
For more details about the winning companies, visit http://www.10bestdesign.com.