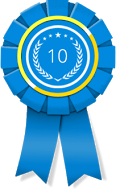 SAN FRANCISCO, CA (PRWEB) April 28, 2017
As part of its efforts to shine a light on high-performing companies, 10 Best Design has named Garden as the Best Branding Agency for April 2017.
Businesses that hope to succeed in the modern online marketplace need to take advantage of every resource they can, and branding agencies have the ability to help businesses reach their target demographics in succinct, efficient ways. Branding agencies work to take the message of any business and transform it into something that is engaging, effective, and memorable. There are literally thousands of branding agencies spread across the globe, so businesses must be wary of who they hire. How can businesses sort out the subpar agencies from those that can provide measurable results?
10 Best Design works hard every month to provide the industry with the resources necessary to make informed decisions about the best branding agencies on the market. They collect a plethora of data on the industry leaders, and they use that data to weigh and rank those firms for their quality. Their results have been proven accurate thanks to their proprietary algorithm that uses complex metrics to create the monthly top ten lists. For April 2017, the top ten winners were recently announced, and they can be seen online. The top three winners are detailed further below.
Garden, the top branding firm for April 2017, is a global agency with offices from Dubai to London. They are highly adept at transforming any brand into the best version of itself, and they use the most advanced techniques and advertising methods to accomplish that goal. They are excellent at providing assistance through every step of the way.
Made is a leading branding agency that captured the second-place spot among the winners for April. Made, which is headquartered in Sydney, Australia, works with business both large and small. The company has helped numerous clients find traction in their markets. They have won multiple awards for their services, and they are committed to the highest quality.
Character garnered the third-place position as one of the top branding agencies. Located in the sunny San Francisco Bay Area, Character is one of the most notable branding agencies in the world. They have been employed by brands all over California and the entire United States, and they work to improve brand strategy, customer experience, and business identity. They can help businesses that are just starting out, or they can completely rebrand existing businesses to better meet the demands of the market.
For more information about the award winners for April 2017, visit http://www.10bestdesign.com.