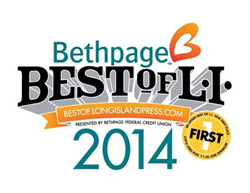 Baldwin, NY (PRWEB) February 25, 2014
The Bridal World is extremely gratified to publicize its first place selection as The Best Bridal Dress Store on Long Island. Hosted by the Long Island Press, the Ninth Annual Bethpage Best of Long Island is a yearly competition held with the direct purpose of determining Long Island's best businesses and cataloguing them for consumers. After a period of voting, those establishments with the highest votes are awarded the title of Best of Long Island for the subsequent year.
After a close race between over 10 Long Island Bridal Salons, The Bridal World received the most votes from customers and friends and was awarded a first place finish. Although nominated for this award previously, this is the first year The Bridal World has the pleasure of taking home the top honor.
The Bridal World would like to thank its loyal following and customers for the time spent voting in order to make this win a reality.
Although this is the first time The Bridal World has been selected for this particular honor, The Bridal World is no stranger to receiving recognition for their outstanding customer service and beautiful full-service salon. In June of 2013, The Bridal World was honored by Jovani Fashions as an Outstanding Customer for their active sales of Jovani gowns for prom and other special occasion events. In November 2013, The Bridal World was selected as the winner of the exclusive 2013 Baldwin Award in the Bridal Shop classification. This award was a recognition of The Bridal World's dedication and effort towards their customers.
The Bridal World looks forward to continuing to offer the top level of service in an effort to earn this title again in 2015. Make sure to come in today to see all the store has to offer.
About The Bridal World: The only Salon catering fully to Bridal needs in Baldwin, NY, The Bridal World was founded in May 2005. Offering Bridal, Bridesmaid, Mother of the Bride, Flower Girl, Sweet 16, Bat Mitzvah and Prom Styles, the Bridal World takes the stress out of finding the perfect dress by offering a wide variety of styles such as Mermaid, Fit and Flare, Ball Gown, and A-line in a luxurious range of fabrics such as Organza, Lace Overlay, Silk and Satin. The Bridal World also offers an exceptional selection of accessories such as Veils, Corset Bras, Jewelry and Bridal Belts. For more information on The Bridal World, visit http://www.thebridalworld.com. Follow them on Twitter (@BridalWorldNY), on Pinterest (/thebridalworld/) and find them on Facebook (/TheBridalWorld).