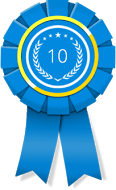 LOS ANGELES, Calif. (PRWEB) March 31, 2017
10 Best Design is honored to present the winners of its Best Brochure Design Firm awards, selecting Drawing from Memory as the leader in this category for March 2017.
With the modern market moving toward an entirely online infrastructure, it is nearly impossible for brands to survive without some sort of web-based presence. However, that doesn't necessarily mean the older formats have completely lost their efficiency at advertising and increasing brand recognition and visibility. Perhaps the best way this is exemplified is through digital marketing and graphic design agencies that still offer amazing brochure and print design services to supplement their digital services. There are so many agencies out there that offer such services, but which ones are the best?
That is the question 10 Best Design is constantly trying to address, and they aim to find the answer by offering comprehensive monthly awards that rank the very best agencies in the field of brochure design and print. These awards are released at the beginning of every month, and the winners for March 2017 have already been selected. The top three winners are provided in detail below, and the rest of the ten winners can be seen online.
Drawing From Memory is well-deserving of the Best Brochure Design Agency award for March 2017. Being a leading brochure design firm, Drawing From Memory has successfully differentiated itself in the marketplace. The firm was created by two graduates from the Rhode Island School of Design in 2008. They operated under a philosophy that says creativity requires production without a reference point, just like drawing from memory for an artist. It is only fitting that they have won the honor of being this month's top brochure design firm.
Ranking as the second best brochure design agency is Hartford Design. Hartford Design is an exceptional agency that is headquartered in Chicago, Illinois. They work with some of the most well-known brands in the world, and they are proud to serve both large enterprise businesses as well as nonprofits and new startups. Their team is made up of some of the most talented individuals in marketing and print design.
The third-place winner on this month's list of top brochure design firms is Rivington Design House. One of the most influential agencies in New York City, the company has a professional team that features young professionals from a variety of fields. Rivington Design House offers a number of comprehensive marketing services that go beyond print brochure design.
For more information about the winners for the month of March, please visit http://www.10bestdesign.com.