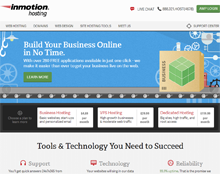 Start your business with a reliable web hosting
(PRWEB) March 05, 2014
HostUcan.net, a global leader in web hosting search and review website has officially awarded Inmotion Hosting as "Best Business Hosting" provider for 2014. The Best Business Hosting award is rated by HostUcans professional editors and over thousands of real business customer reviews.
InMotion hosting has surpassed all the competitors for the great business hosting reliability, features, speed, security, price and technical support aiming at helping users find a web host that provides optimized web hosting service to boost their business.
As a US based web hosting company that's been in business for over a decade, InmotionHosting now is sure to catch the eyes of many businesses. The company focuses on business level hosting which is their specialty especially evident from their catchphrase, "we understand business - not just e-business".
Inmotion offers affordable pricing for business hosting at $7.99/month, but now thorough this Special Inmotion Hosting Promotion Link, all new customers will only pay $4.89/month, a 30% off. In addition, Inmotion Hosting has a 90 day money back guarantee to ensure customers to ask for a full refund within 90 days and get a pro-rated refund at any time.
Besides this expect unlimited features with business hosting from Inmotion that include: disk storage, bandwidth, disk storage, free domain, cPanel, premium website builder, free data backups, and up to $300 in free marketing credits for Bing, Google, Twitter, Yahoo, and many more.
Inmotion Hosting has two data centers and offers Max Speed Zone, in which users can choose which data center they want to host their site. All users will experience fast performance, up to 6x faster with the Max speed zone.
Inmotion provides customers technical support 24/7 with call hold times that average less than 30 seconds and all their staff have over 8 years of experience and will be happy to assists customers with questions or problems that there may have.
To know more about this award, please check out http://tutorials.hostucan.net/best-business-hosting/ or visit http://www.hostucan.net/company/inmotionhosting to know how InmotionHosting customers talked about their service.