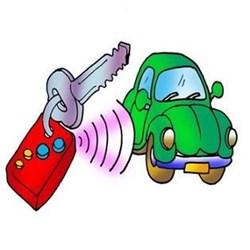 Car owners should educate themselves using the great free resource alarmsystemreview.com on the best type of alarm system in order to protect their cars and their valuables inside them.
Detroit, Michigan (PRWEB) September 21, 2013
In today's world, a car alarm is practically a necessity. Thieves commonly target not only the vehicle itself, but also the contents of a vehicle. In fact, thieves can frequently steal items inside a car such as registration information and garage door openers and use these items to locate and break into homes.
Protecting a car can be just as important as protecting a home, and as with homes, alarm systems are often the best line of protection. Most car alarms provide the option for do it yourself alarm system installation, making it an easy way for car owners to protect themselves against possible threats.
AlarmSystemReport.com, a site providing home alarm system reviews, such as ADT Security reviews, created a list of tips for car owners to use when making the decision to purchase a car alarm.
1. Decide which type of alarm system is best before making any other decision about the alarm. There are two primary types of car alarms—active and passive. An active alarm system can only be disarmed when someone presses a particular button. A passive alarm is one that is automatically armed when the vehicle is turned off and all doors and windows are closed.
2. Decide how complex of a system is required. Car alarms vary greatly in the features provided. Some systems simply provide an alarm sound or flashing lights, whereas others have technologically-advanced options, such as immobilizers for the ignition. A more complex and therefore expensive system may be best used by individuals who park a vehicle for long periods of time.
3. Don't choose an alarm that has features already offered by a vehicle. For example, if the vehicle already has an alarm that sounds if someone attempts to open a locked door, there's no need to buy an alarm system with the same feature.
4. Choose the features that are a necessity. Features found in car alarm systems often include remote starts, door lock control and window controls, but as with home alarms, the options are pretty limitless. Also, consider the types of sensors for the car alarm. Popular sensor options include door sensors, movement sensors, and sound sensors.
About AlarmSystemReport.com
AlarmSystemReport.com is the leading third-party, fully independent provider of information about alarm system companies and technology. The site provides consumers with in-depth reviews and rankings of home alarm companies, as well as informational news and blog posts and access to pricing information, coupons and discount codes.