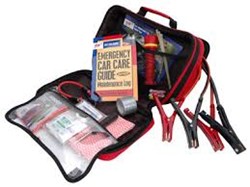 Disaster kits are now one of the best-selling items in the auto industry from leading retailers.
Evansville, Indiana (PRWEB) July 27, 2013
Emergencies can and do happen to vehicle owners during transport. Companies that provide emergency solutions for automobile owners frequently market products that are affordable for consumers. The AutoProsUSA.com company has launched its best car emergency kit reviews online at http://autoprosusa.com/car-emergency-kit-roadside-emergency-kit-review.
This company helps thousands of automobile owners weekly to purchase auto parts or components for used vehicles online. The changeover to providing reviews and information for essential products is now well received by website visitors.
The kits that are reviewed by this company include a range of different types to place inside of vehicles to aid in the event of a disaster.
"Being unprepared is one of the worst things a driver can do in the event of a problem," a marketing manager for the Auto Pros USA company said. Disaster kits are now one of the best-selling items in the auto industry from leading retailers.
Because there are hundreds of kits offered online, the research provided in the new kits reviews is expected to be helpful to drivers.
"There are a minimum of 10 essential products that every kit should contain," the manager added. Standard first aid kits often lack essentials that are useful when vehicles are left motionless due to accidents or sudden failures.
The combination of personal safety and awareness items is one that could help drivers when a car breakdown or other situation is presented.
The series of auto industry related product reviews are in combination with the standard services that are provided by the Auto Pros company. Consumers interested in researching the company database for parts pricing and distribution options can perform basic searches online.
The connected database that generates all pricing and partner network data can be used 24 hours a day apart from the regular hours of business set by this company.
About AutoProsUSA.com
The AutoProsUSA.com company offers its website visitors some of the best prices that are found from automotive retailers online. This company constructed its resource for junkyards in the USA and thousands of weekly visitors find parts and accessories easier. New reviews are published by this company for basic auto parts and components online. The AutoProsUSA.com company staff are industry veterans who work daily to provide resources to consumers and professionals in the industry. Small auto body shop marketing services are a new concept launched by this company in the 2013 year.