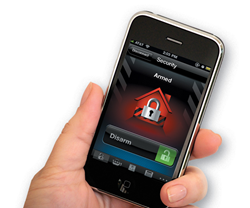 Cellular alarm systems make it easy for consumers to control and protect their homes no matter where they are.
Charlotte, North Carolina (PRWEB) March 10, 2014
Having a cellphone is no longer a luxury; it is a necessity. In fact the question should not be if one has a cellphone, rather, how many mobile phones does one have! While cellphones have been around for a long time, cellular monitoring is a fairly new concept. Since most home and business owners own cellular phones, some of them have already disconnected their regular phone lines for the convenience of mobility. Due to its advantages, it is quickly rising in popularity.
Cellular alarm systems are now considered one of the safest and most secure systems in the market. A cellular signal cannot be cut, whereas someone can easily disable phone lines with enough know-how about bypassing security systems. This makes it more difficult for burglars to penetrate the home. Cellular coverage has also become quite efficient making the technology almost impervious to down times.
Some companies that offer cellular monitoring also allow the homeowner monitoring capabilities through the mobile phone. Basically, you can be sure your home is safe no matter where you are.
Indeed, cellular systems are becoming a top choice for people looking for efficient, practical and affordable security systems. That is why a number of companies are joining the bandwagon; so much so that the choices can be confusing.
Alarm System Report provides remedy to this by launching their annual list of the leading cellular monitoring companies this 2014. The said list is a compilation of the best alarm system reviews the industry has to offer.
AlarmSystemReport.com's sought-after annual list is a comprehensive report by the dedicated experts behind the website. Each alarm system review gives a run down on company profile, price, equipment used, pros and cons, and much more.
Another great feature of Alarm System Report's review is the question and answer portion listed below the winner's list. It tackles all the possible questions one may want to know about cellular monitoring and answers them in a clear and simple manner.
When deciding the right cellular monitoring system, seek guidance from the specialists of AlarmSystemReport.com to save on time and money. The task of choosing the best cellular home protection system can now be a walk in the park.
About AlarmSystemReport.com
Alarm System Report is the leading authority on home alarm solutions, containing detailed information about various alarm technologies such as cellular monitoring, DIY systems, and wireless systems. Through reviews, blogs, and articles, the site has put together all the information one needs to be guided towards a wise decision on which system to purchase. AlarmSystemReport.com also offers discount codes that give readers access to the best deals possible. Visit AlarmSystemReport.com to get the latest on home protection.