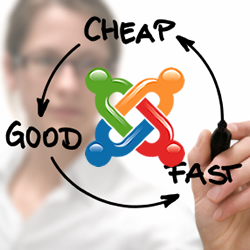 San Francisco, CA (PRWEB) April 15, 2014
The web hosting review site BestHostingForJoomla.com has awarded the best cheap Joomla hosting provider after they reviewed 50+ web hosts on price, extras, compatibility, control panel, uptime, speed and technical support. More than 4,000 verified customer reviews are also taken into account.
The winner is BlueHost, a large web hosting company serving over 85,000 Joomla websites. The company receives the award because it offers services that are budget-friendly, easy-to-use, reliable and fast.
For beginners and the owners of small or medium sized Joomla websites, BlueHost provides a shared hosting package with unlimited disk space and bandwidth. The package is priced from $6.99/mo regularly and now $3.95/mo for subscribers signing up through this promotional link. When websites outgrow the package, the company has upgrade options for virtual private servers and dedicated servers.
Besides the resources and necessary features, the shared package comes with a large number of free add-ons, including 1 domain name registration, $100 Google AdWords voucher, $50 Twitter advertising credits, $50 Facebook credits and Bing credits. Besides, the anytime money-back guarantee and PayPal payment increase the purchase security.
BlueHost has developed a 1-click script installer SimpleScripts to automate the installation and update of more than 150 applications including Joomla. Using this tool, webmasters are able to focus on the design and content instead of spending time configuring and setting up their websites.
The account control panel adopted by BlueHost is cPanel, a sort of widely used software that offers a graphical interface and automation tools for the management of the following features.
1) Account statistics: disk space and bandwidth usage, software versions & information about the operating system.
2) Domain: domain manager, redirects, DNS Zone Editor, Sub-domains & parked domains.
3) Mail: email accounts, Spam Experts, Spam Harmer, auto responders & user filtering.
4) Security: IP Deny Manager, SSL, SSH, HotLink Protection & GnuPG keys.
5) Database: phpMyAdmin, remote MySQL, phpPgAdmin & remote PostgreSQL.
With the large investment in building data centers and the utilization of UPS power, diesel generator and multiple 10 gigabits of Ethernet connections, BlueHost guarantees a reliable and fast environment for hosting Joomla websites. At present, the company uses over 8,000 dual quad processor servers.
In addition, BlueHost provides 24x7 US based technical support via phone, live chat and email. The guaranteed holding time is 30 seconds via phone and live chat, and 15 minutes via the email ticket system.
For more information, follow this link to read details about the award winner.
About BestHostingForJoomla.com
It is a professional site dedicated to Joomla hosting service review, award announcement and tutorial introduction with information collected from real using experience.