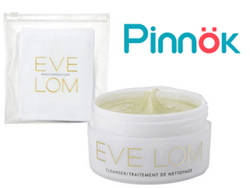 San Francisco, CA (PRWEB) March 12, 2014
The beauty channel of Pinnok, one of the biggest product review and coupon sharing website, recently released the latest skincare review Best Cleansers for All Skin Types, in which Eve Lom Cleanser, Origins Gentle Cleansing Oil, Philosophy Purity Cleansing Oil and Bioderma Crealine H2O Solution are named as the best cleansers in the year.
Cleansing is the very first and the most crucial step of skin care. As people (women and men) are getting more aware of the fact, the requirement for a great cleanser grows rapidly. To inspire their users, Pinnok has selected four perfect cleansers for any skin type amongst dozens of popular cleansing products. The products in question cover drugstore as well as high end brands, hence there will be different levels for customers to choose from according to their budget.
The passage provides both brief recommendation and detail review of each product. The brief description works as a summary while the latter shows more details such as its package, texture, smell and effect to give users a fuller view of the item. To know more about the article, please check it out at http://blog.pinnok.com/best-cleansers-for-all-skin-types/.
Pinnok editors test and pick their recommendations by rigid criteria. Effect, safeness and using experience are all put into considerations. According to the passage, a great cleanser should be safe, powerful and gentle. Given that the cleansers will also be recommended to sensitive skin, safeness is the priority of all. Products with irritating or controversial ingredients are kicked out even if they rank high in other parts.
"We don't want people to waste their money on the wrong products. We want them to spot the right one in the first place," says a Pinnok editor regarding to the purpose of the post. She also reveals that the post will be followed by a series of cleanser recommendations especially for oil skin, combination skin, dry skin and sensitive skin.
To know the beauty deals and beauty product reviews from Pinnok, please visit http://www.pinnok.com/beauty-health.