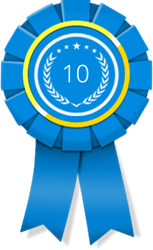 New York, New York (PRWEB) March 18, 2015
Recently, 10 Best Design revealed its roster of firms that represent some of the industry's best corporate web design entities in the country. Among them, the top three web development firms are Blue Fountain Media, Big Drop Inc. and Maxburst.
To be honored as a top corporate website design business by 10 Best Design, companies must exhibit the complex database and server skills necessary to successfully design a corporate website. The companies chosen for the 2015 awards all have solid reputations in the industry for delivering the best possible services for each of their clients. The 10 Best Design and 10 Best Network LLC roster consists of top industry professionals with experience in web design, development and on-line branding. The team developed an analytic review application that assigns company rankings based on specific criteria, including Internet and client research, previous industry awards, reviews, traffic and additional SEO rankings.
Topping the list is New York, New York-based Blue Fountain Media. This best corporate web design business goes above and beyond to assist clients with increasing on-line exposure with a personal touch. The firm operates on the belief that the client is the key to developing a successful website, and the staff maintains contact with the client all through the design process to ensure the best results. The graphic design specialists at Blue Fountain Media are dedicated to crafting a web site that is attractive, yet functional while keeping the site relevant and fresh by regularly incorporating new content.
Another New York-based leading corporate web design firm, Big Drop Inc. took the second-place honor due to the company's collective mission to generate positive results for its clients. The staff at this company can meet the needs of all types of clients—whether they prefer subtlety or something more showy—Big Drop Inc. can deliver. This firm recognizes every client is different, and tailors its services in a way that respects their individuality while setting up a site that is interesting, relevant and effective.
The third-place top corporate web design firm is Maxburst of Farmingdale, New York. This company recognizes the importance of keeping the client's vision and values the top priority throughout the website development process. The staff at Maxburst is dedicated to creating attention-grabbing websites that draw in more customers, and by extension, boost profits.