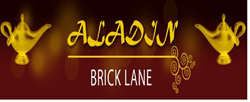 We serve curry for everyone's palate from the fiery hot Madras curry to a more subtle Chicken curry.
London, UK (PRWEB) January 02, 2015
Aladin Brick Lane is known as one of the best curry houses in London. In fact, this sobriquet was bestowed by none other than the BBC itself on this Indian restaurant located in the heart of London, the curry capital of the world. Aladin Brick Lane serves exceptional curry and it is the right choice for those who want to sample good Indian food at prices that don't dent the wallet or the budget. This is why this famous restaurant in London is currently offering 20% off on all advance bookings.
An executive from this well known restaurant has remarked, "Aladin Brick Lane has gained recognition from Capitals Radio 95.8 FM has one of the top 10 Indian restaurants in London. The Telegraph has indicated it as one of the best curry houses in London. Evening Standard has also given us a 5 star rating. When it comes to exceptional ratings and credentials, we are the best. Having won the Customer Excellence Awards for Exceptional Customer Services, we are known not only for our special discounts and excellent food, but also for our professional service and cooking skills that far surpass that of our competitors."
Aladin Brick Lane is located in the bustling and vibrant Brick Lane which has gained recognition nationwide not to mention a visit from HRH Prince Charles when His Highness visited East London. The restaurant offers dishes like Chicken Tikka masala, Chicken Jalfrezi or Mutton Curry here. For vegetarians too, there are a wealth of choices ranging from Paneer dishes to saag (spinach), aloo (potatoes) and more. Parsi Indian dishes such as dal and dhansak are also a hot favourite here.
The executive goes on to add, "We serve curry for everyone's palate from the fiery hot Madras curry to a more subtle Chicken curry. Each dish from the Chicken to the mutton and the fish vindaloo is perfect. At Aladin Brick Lane, your every wish is our command. We can make the dishes to suit your needs and preferences. Don't forget to try our special starters such as samosa and chaat which are just what you need to start the meal. For non vegan diners, the choice ranges from chicken kebabs to mutton, as barbecued meat is paired with juicy chutneys to create the perfect start to a meal."
Apart from the sauce and gravy dishes and starters, there are numerous Indian breads and rice dishes to choose from too. All types of Biryani-seasoned with both vegetarian and non vegetarian options- are provided for passionate foodies.Aladin Brick Lane offers 20% off on customers who make advance bookings via telephone or the internet. This famous curry house also provides 40% discount for customers who are booked and seated between the hours of 4 to 6 pm in the evening daily (with the exception of the month of December). Discount vouchers are also provided to clients who purchase alcohol from off license local shops located 15 yards away from the restaurant. No wonder, it is the best curry house in Brick Lane, London.
About Aladin Brick Lane
Aladin Brick Lane was established in the year 1979 and since its inception, this wonderful restaurant has been serving best curry dishes in Brick Lane at extremely reasonable rates. Adding further to this, it offers special discounts and promotional prices for loyal clients. With the best Indian food in London and ratings from top critics at BBC, Evening Standard and The Telegraph, UK's leading dailies, Aladin Brick Lane has rapidly acquired a well deserved reputation for excellent food and amazing ambience. This restaurant attracts celebrities and well known public personalities along with royalty and it is second to none in all of London when it comes to original Indian food that tastes good and is light on the pocket too. For the best curry in Brick Lane, London, choose Aladin Brick Lane.