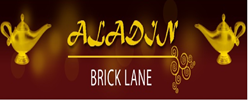 Earlier our restaurant served only Bangladeshi migrants but later on our cuisines were served among others as well.
London, UK (PRWEB) May 26, 2015
Established in the year 1979 in Brick Lane, Aladin serves food from the Indian sub-continent food to their customers. In the initial years, the restaurant served only the Bangladeshi migrant communities of the area. But later it restaurant gained popularity among others who tried the culinary delights and soon Aladin had guests coming in large numbers. The restaurant is offering 20% discount on advance booking through website and telephone for their customers.
A representative from the restaurant quoted, "Earlier our restaurant served only Bangladeshi migrants but later on our cuisines were served among others as well. To make sure that our clients receive standard food quality at reasonable rates, the restaurant is offering 20% discount on Advance booking. So if people love Indian cuisines then Aladin Brick Lane is the place to be. You could book your seats online and on telephone."
With the advancement of technology, the internet has now become just another household name. This means that the traditional methods of booking a table at a favourite restaurant that involved calling or visiting the place itself has been replaced by a few clicks.
The representative further quoted, "Our restaurant is spread over 4 floors, giving ample space for people to hold their corporate dinners, birthday parties and anniversaries. We strive to give all customers complete attention and an experience of serene dining with their loved ones at our restaurant. Our chef also specialize in offering gluten free options to our customers."
If people are searching for one of the best Indian restaurants in London, UK, then Aladin is the place for them to visit. The restaurant was established in the year 1979 and initially served Bangladeshi migrants of the area only. But later on the restaurant's culinary delights brought in large crowds to the place. They specialize in offering cuisines from India, Pakistan and Bangladesh. The restaurant provides their customers with a wide variety of curries, making it the best restaurant in Brick Lane.
About Aladin Brick Lane:
Aladin, built in 1979, is counted amongst the best Indian restaurant in London, UK. People could enjoy Indian, Pakistani and Bangladeshi cuisines by experienced culinary chefs of the restaurant. The restaurant can hold meetings, birthday parties, and private dinners as it is spread over 4 floors. If people are in search for Brick Lane curry house in London, then a visit to Aladin is a must.
Contact Information:
Aladin Brick Lane
132 Brick Lane
London E1 6RU
020 7247 8210
Email: aladinbricklane(at)hotmail(dot)co(dot)uk
Website: http://www.aladinbricklane.net
# # #