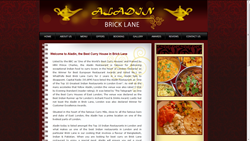 We have been serving great quality and spectacular delicacies of the Indian subcontinent, over 25 years.
London (PRWEB) March 25, 2015
Being one of the oldest restaurants, Aladin Brick Lane was opened in 1979 keeping in mind the Bangladeshi migrant community. But it soon gained popularity as the tastiest Indian restaurant and therefore, started serving the Indian delicacies as well. It serves some appealing as well as delectable dishes, imparting huge importance to the quality of the dishes. This renowned restaurant has been recently crowned with the prestigious 'Taste Brick Lane Curry Award'.
The spokesperson of Aladin quoted, "We are extremely happy after receiving the award. Our chefs put in a lot of effort to come up with variant curries, to gratify our valuable customers. These awards give them a much needed boost to perform even better, and encourage them to bring something new to the palate. It is a moment of pride, and our restaurant has won several awards over the years. We are aware of the fact that for a lot of our customers these dishes bring back some long lost memories and are therefore, quite particular about their tastes. Thus, our chefs prepare these dishes quite carefully. They have always tried to prepare these delicacies the way they were prepared centuries ago, to assure that our guests get the taste of history."
Ranging from the succulent chickens to the aromatic and delicious mutton curries, Aladin restaurant serves curry to meet the needs of everyone. Their menu is large and extensive, and the quality is paramount. It is located in close proximity to some of the leading bars and clubs, and is not only confined to curries. Aladin has more to it than just fine curry, and is counted amongst the best Indian restaurant as well as the best curry house that specialises in serving small to large groups. Spread over 4 floors, this restaurant has an ample space to serve food for all the requirements, a serene dining experience or an extravagant, they cater to all the needs.
The executive further added, "We have been serving great quality and spectacular delicacies of the Indian subcontinent, over 25 years. Our chefs are quite experienced and trained, and prepare the authentic Indian food by using the traditional means of cooking. They always look ahead, and keep on experimenting with the food to serve the best to our clients."
The proficient chefs of Aladin make this restaurant a place a favourable place, along with its amazing ambience. Sprawling over 4 floors, this restaurant has some beautiful ambience, and delicacies that will surely leave people asking for more. In order to get curry in London, people can visit this place, and give themselves a treat.
About Aladin Brick Lane:
Aladin, the best Indian restaurant in London, has been in operation since 1979, and since then has been serving the cuisine of the Indian subcontinent. It is located in Brick Lane, and is a highly renowned and popular restaurant. With its close proximity to the famous bars and clubs as well as being close to some of the historic hot spots of the area, it is the perfect place to start, end or spend a fabulous evening with friends and family. It has been counted several times amongst the best Brick Lane restaurants.
Contact Information:
Aladin Brick Lane
Address: 132 Brick Lane
LondonE16RU
020 7247 8210
Email: aladinbricklane@hotmail.co.uk
###