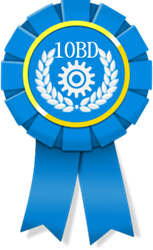 Atlanta, Georgia (PRWEB) January 31, 2014
10 Best Design releases rankings of web design firms in a number of specific categories related to the development of websites, web applications, and mobile applications. This month, Isadora Design has been awarded as the #2 Best Custom Web Design Firm.
10 Best Design is a San Francisco-based group of experts who have developed an algorithmic system which includes a variety of data sources from across the industry to compile lists of the best custom web design firms. They also rank firms in other categories such as responsive design or eCommerce design firms. The 10 Best Design team includes experts in search engine optimization and online branding, among a variety of other specialties.
It is worth mentioning some of the firms who made the list. The Creative Momentum, which hails from Atlanta, Georgia, receives top honors from 10 Best Design. Well known for building web sites from scratch and integrating all of the latest coding, this company has earned its well deserved honors.
Isadora Design, a Redondo Beach, California-based custom web design firm offers a variety of custom web design services, and guarantees start to finish work. Isadora Design's four step development process promises personalization and results, and they have caught many eyes in the industry, guaranteeing it the number two spot on the list.
Forix Web Design clocks in at the number three spot, out of Portland, Oregon. They are known for their excellent functionality in design, along with expertise in eCommerce and digital marketing. Their 61 person team is highly respected for their innovative mobile app development, and their client base continues to expand every year.
Rounding out the top five on the list are Cofa Media and AgencyCadre.com. Both companies are headquartered in Southern California, and Cofa Media is recognized for its attention to fine details, all the way down to colors and font sizes. AgencyCadre.com receives accolades for its remarkable abilities to improve the user experience on any kind of website.
The full list of winners and honorable mentions can be found on 10 Best Design's website, along with more resources about each of the winners and the awards.