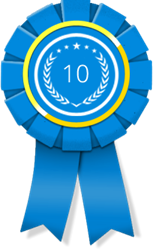 Farmingdale, New York (PRWEB) March 17, 2015
10 Best Design recently issued its latest list of companies that illustrate some of the best web custom design firms in the industry.
10 Best Design is an organization that gives awards to the best web design firms all over the world in different categories. Three of the top web development companies are Blue Fountain Media, Big Drop Inc. and Maxburst. The following is a short description of the top three firms on their list.
Blue Fountain Media, located in New York, New York, is first on the list and thus considered to be the Best Custom Web Design Firm. Blue Fountain Media is a custom web design firm that helps build identities and is very imaginative in the process. They will help the brands of their clients really stand out online. They do this by creating websites that are customized for the particular company, so that innovation and ingenuity are emphasized. They understand that web design is constantly changing with new trends and ideas. As such, they make an effort to stay current and at the very forefront of technology, so that they can make a client's website as relevant and innovative as possible. They are the company to choose for any client who wants to grow and thrive as a business.
Big Drop Inc. is the Number 2 contender for the title of Leading Custom Web Development Agency. Big Drop Inc. is based in New York, New York. The experts at this firm know that every company has a website these days, and simply having a website is not going to do their clients much good. As such, they use their extensive knowledge in graphic design and trends in web development to create websites that truly stand out and excel in terms of both form and function. They build great relationships with their clients.
Maxburst, another top web design firm in Farmingdale, New York is Number 3 on the list. It is considered to be a smart and creative custom web design firm that is especially good at helping its clients really achieve a dominant presence on the Internet. They employ online advertising strategies, a major one of which is web development and design. Their experts have a great deal of experience in graphic design, and they use their knowledge and experience to put together websites that build and develop their clients' identities and draw the attention of the target audiences.