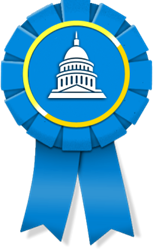 Washington, D.C. (PRWEB) May 26, 2014
The industry experts and service reviewers at 10 Best Design (10BD) have named ten DC web design companies as award recipients for Best in the City. After an extensive analysis of numerous website development firms in Washington, D.C., 10 Best Design narrowed down the field to ten companies, all of which stand out for their commitment to clients and uncanny ability to consistently deliver high-quality, results-driven work. The list of ten award-winning design firms runs the gamut from old companies to new ones, from large firms to small. Despite the differences in the firms, one thing stayed the same: success in creating high-quality, client-focused work.
Leading the list of 10BD's best web design firms in DC is CLiKZY Creative, a well-established firm founded in the mid-2000s. CLiKZY has a very broad client base in industries encompassing law, energy, non-profit, and food service, among many others. The company provides its clients with a broad spectrum of services, including online marketing, branding strategy, landing page development, custom PHP development, CMS implementation, and more.
Ranking second on the list is Blue Water Media, a web design and online marketing firm which works with clients of varying sizes, but specializes in larger organizations. Its clients include both Fortune 500 companies and smaller start-ups. Many world-renowned agencies such as the Department of Defense, Goodwill and Fidelity have turned to Blue Water Media due to their proven track record and results.
The other firms honored by 10 Best Design as the top web design and online marketing firms in the nation's capital are: Interactive Strategies, CMS, Domain 7, Viget, Venveo, Minima Designs, Fox Creative, and Rock Creek. The list reflects a wide range of company styles and sizes, with each company known for its enthusiasm, innovative designs, and excellent customer service.
10 Best Design is one of the most trusted names in the web design industry, and its awards are based on the insights, industry experience, and in-depth research of its team of marketing, branding, and web design experts. More than a quarter of a million searchers trust 10 Best Design each year to identify and profile the best web design firms in the nation.