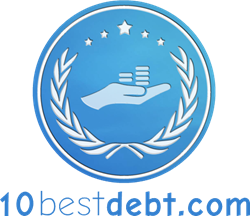 NEW YORK, N.Y. (PRWEB) July 27, 2015
Today, 10 Best Debt announced the winners of its Best Debt Consolidation Awards. 10 Best Debt offers answers to financial and credit problems and an algorithmic analysis of debt consolidation companies by a team of independent researchers. It is not a debt management company, but instead offers advice on matters of consumer debt and helps consumers locate top debt consolidation businesses. Debt consolidation companies that receive the 10 Best Debt award have undergone a detailed analysis, which includes factors such as previous awards, accolades, business ratings, and web performance. In addition, they have paid to be listed in the 10 Best Debt directory.
National Debt Relief of New York, New York is the top ranking debt consolidation firm on 10 Best Debt's list. According to the company, the reason consumer debt becomes such a problem is that consumers not only repay the amount they borrowed, but debtors are charging ever-increasing interest rates and indefensible penalties and fees on that debt. However, the highly professional consultants at National Debt Relief are extremely successful helping consumers put a plan in place to manage their finances. Their expertise in negotiating with creditors results in one lump sum their clients are able to pay on time every month.
Discover of Riverwoods, Illinois landed second on 10 Best Debt's list of top debt consolidation firms. Discover does much more than simply issue credit cards. It also offers personal loans that can be used as debt consolidation loans. Boasting the lowest APRs in the industry, no closing costs, and flexible payment plans, a Discover personal loan can be one of the easiest debt consolidation solutions available to consumers. Other convenience factors to consider include easy telephone application, direct deposit to a bank of your choice, and a 30-days-same-as-cash option.
For the complete list of the award winners, please visit http://www.10bestdebt.com/firms/.