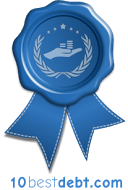 Pittsburg, Pennsylvania (PRWEB) March 30, 2015
Recently, 10 Best Debt has released its current list of the best debt management firms. The top three companies that were highly regarded by 10 Best Debt are Advantage Credit Counseling, Debt Management Credit Counseling Corp and Debt Movers.
A debt management firm is a company that works closely with a debtor to eliminate his or her debt over time. Such a firm conducts tasks such as analyzing a consumer's credit profile, negotiating with creditors and assuming responsibility for a consumer's monthly creditor payments. The companies that received awards displayed the highest levels of integrity and care with the previously-mentioned processes.
The following is a brief description of the top three companies on 10 Best Debt's list of award winners. Advantage Credit Counseling Service is the top company to receive an award for being a leader on the list for best debt management agency. Advantage Credit Counseling Service not only arranges effective debt management plans, but it also provides information that the consumer can use to avoid falling into debt again in the future.
Debt Management Credit Counseling Corp (DMCC) ranked second as a best debt management company. DMCC received its award for the unique approach that it takes toward debt management. Specialists within this firm will assist clients from many angles. They may use debt relief straggles, negotiation strategies and more. Interested persons can contact the company for a credit analysis and some counseling.
Debt Movers, a UK-company, strives to move consumers' debt out of their lives. As a best debt management company, Debt Movers provides a wide variety of solutions for debt relief. Examples of some of the services available through this company are debt relief, individual voluntary agreements, trust deeds, bankruptcy advice and more. Additionally, the company provides referral bonuses to customers that send new clients their way. The organization firmly believes in rewarding people for their help. The firms on the winners list received awards because they had the highest mixture of qualities that are necessary for leadership.
It is important to note that debt management firms should have competent representatives who are ready to lead their clients back to financial freedom. The companies on the 10 Best Debt's list displayed top-notch customer service traits, accurate credit information, positive strategies and wealth of other benefits. Consumers should choose from the list so that they know they will receive the best services that they can receive. Nowadays, credit health is important because many lenders look at a person's credit report for housing, automobiles and loan approvals.