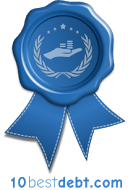 PITTSBURGH, Penn. (PRWEB) July 29, 2015
10 Best Debt has put out its latest list of the best debt management firms, with Advantage Credit Counseling leading the pack. 10 Best Debt is a trustworthy website that routinely analyzes and ranks the leading debt management companies available to potential clients.
Advantage Credit Counseling Service was 10 Best Debt's pick for the best debt management agency. Advantage Credit Counseling Service is a Pittsburgh, Pennsylvania debt management firm that aims to assist individuals who, simply put, are frustrated by their debt, whether it's from credit cards or anything else along those lines. The agency's debt management plans can aid people in getting their lives back on track comfortably and smoothly. The professionals on the Advantage Credit Counseling Service team are truly dedicated to making their clients' lives easier.
Cambridge Credit Counseling, a top debt management firm in Agawam, Massachusetts, is 10 Best Debt's second-place winner. The main priority at Cambridge Credit Counseling is to educate people on the ins and outs of credit scores. Poor credit scores can bring on a host of difficulties for people, notably jumps in interest rates. The knowledgeable counselors on the Cambridge Credit Counseling staff all have national certification.
ClearPoint Credit Counseling in Atlanta, Georgia is the winner of the third slot on 10 Best Debt's illustrious list of best debt management agencies. The seasoned debt aficionados on the ClearPoint Credit Counseling staff help people learn how to manage debt better. They discuss key topics such as debt consolidation, negotiation and settlement. People who are looking for a patient, hands-on approach to overcoming debt and all of the problems that are associated with it may benefit greatly from the assistance of this acclaimed company.
The other top debt management firms that 10 Best Debt acknowledged are Consumer Credit and Budget Counseling in Marmora, New Jersey; Debt Counseling Corp in Hauppauge, New York; Debt Management Credit Counseling Corp in Lighthouse Point, Florida; Debt Movers in Wirral, the United Kingdom; Debt Relief Options in Dallas, Texas; Debthelper.com in West Palm Beach, Florida; and Family Credit Management in Rockford, Illinois. 10 Best Debt also gave special recognition to numerous prominent firms, as well. Examples of these firms are Full Circle Total Debt Solutions in Delta, Canada; Money Management International in Sugar Land, Texas; and the National Foundation for Debt Management in Clearwater, Florida.