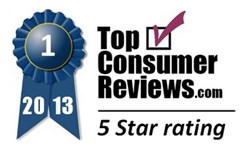 We are excited to receive TopConsumerReviews.com's 5-star rating... we appreciate the recognition and look forward to another successful year!
Overland Park, KS (PRWEB) October 09, 2013
TopConsumerReviews.com recently awarded their highest five-star rating to National Debt Relief, an industry leader in debt relief services.
"We are excited to receive TopConsumerReviews.com's 5-star rating," said Daniel Tilipman, National Debt Relief's President and Cofounder. "As they've pointed out, our debt counselors are here to help with a free consultation and advice to getting back on track. Our comprehensive list of debt relief services helps us determine the best financial move for each of our clients. We appreciate the recognition by TopConsumerReviews.com and look forward to another successful year!"
A huge swing in the economy and millions of lost jobs has put many Americans deeply in debt. With credit card payments, medical bills, auto loans, and mortgages, many people feel financially strapped and hopeless. Professional debt relief services are there to help when people feel lost and out of financial solutions. Debt relief companies come in all shapes and sizes and it's important to look for those debt relief companies that have experience, a solid reputation, transparent pricing and professional practices.
"National Debt Relief received a 5-star rating in our 2013 review of top debt relief companies," explained Brian Dolezal, of TopConsumerReviews.com. "Their array of debt relief options really stands out. National Debt Relief is a sort of one-stop shop for debt relief help. We were also impressed with their strong BBB rating and friendly customer service staff. The knowledge of their debt professionals is top notch. Overall, National Debt Relief is a great place to get started on improving any tough financial situation."
To find out more about National Debt Relief and other credit repair services, including reviews and comparison rankings, please visit the Debt Relief category of TopConsumerReviews.com at http://www.topconsumerreviews.com/debt-relief/.
About National Debt Relief
National Debt Relief helps consumers that are struggling with debt get relief via comprehensive solutions including debt consolidation, debt restructuring, debt settlement and debt negotiation. Backed by a strong reputation in the industry and over 7 years of experience, National Debt Relief offers top notch customer service and unparalleled debt relief results.
About TopConsumerReviews.com
TopConsumerReviews.com is a leading provider of independent reviews and rankings of hundreds of consumer products and services. From debt relief programs to credit repair and mortgage refinance, TopConsumerReviews.com delivers in-depth product evaluations in order to make purchasing decisions easier.