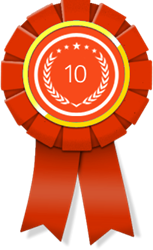 LINCOLN, Maine (PRWEB) February 15, 2016
10 Best SEO is pleased to provide business owners with a new monthly award featuring the best dental SEO companies in the business. Recognized as the top dental SEO firms are DDS Rank, Comrade and Netmark.
Based in Lincoln, Maine, DDS Rank is a team of disciplined, dynamic SEO experts that specialize in putting together top-notch Internet marketing campaigns for dental companies. As a top dental SEO business, DDS Rank is skilled in using on-page and off-page techniques to achieve the highest return on investment possible for the client. As a detail-oriented group, the DDS Rank techies will examine each aspect of the client's digital campaign to ensure that it is optimized for success. From links to meta tags to contact listings, every component of the client's site and SEO process will be enhanced to promote phenomenal visibility and conversion.
A leading dental SEO firm, Comrade is passionate about taking dental companies into increasingly powerful dimensions of online authority that result in a strong bottom line. As a customer-oriented, Chicago, Ill.-based company, the techies of Comrade take the time to have in-depth conversations with dental business representatives to ensure that they maintain a thorough understanding of the client's needs and wants. They also work with skill and dedication to ensure that each website page is optimized for visual engagement, functionality, mobile friendliness, and connectivity. Finally, the Comrade professionals realize that web design and development are an ongoing process, meaning that they will systematically update each component of the client's site to ensure optimal ranking in search engine results.
Netmark ranked third on 10 Best SEO's list of best dental SEO contenders for February. Netmark is an Idaho Falls, Idaho SEO company that loves empowering dental companies to establish relationships and convert the target market in the digital sphere. They make this happen by consistently offering customized, cutting-edge search engine optimization techniques that enable the business owner and target audience to connect regularly. And as a company that places primacy on the goals and brand vision of the business owner, the professionals of Netmark enjoy working side by side with corporate leaders to ensure that their perspectives are acknowledged and represented throughout the digital campaign.
For more information, visit http://www.10bestseo.com.