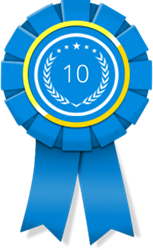 San Francisco, California (PRWEB) March 25, 2015
Recently, 10 Best Design made award selections to honor the best dental web design firm, as well as the runner ups. A total of 10 agencies were chosen for recognition among the pool of countless nominees. The top three agencies selected for the Leading Dental Web Design Agency award were Televox, TNT Dental, and PBHS (Protective Business and Health Systems).
Televox was the top winner of the awards for best dental web design firms. As a first-rate dental web design firm, Televox specializes in creating highly interactive websites for patients and dentists alike. The web solutions offered by Televox allow users to manage appointments, contact dentists' offices, and have their questions answered in little to no time. Televox has revolutionized the dental web design industry.
TNT Dental was the second-place recipient of the Best Dental Web Design Agency awards. As a leading dental web design agency, TNT Dental takes pride in being the solution that dental offices can turn to for creating stronger lasting impressions on patients. In essence, TNT Dental approaches each new client with the philosophy that an organization's website is often a user's first impression of the entity. If the first impression is negative, the odds are quite low that the user will engage the organization. TNT Dental specializes solely in creating positive online images for dental offices in order to extend outreach and turn more users into patients.
PBHS holds the third-place position for the Best Dental Web Design Agency. PBHS not only handles website creation for dental clients, but it is also experienced in branding and marketing. PBHS has the tools required to create a effective solution for both patients and healthcare professionals. PBHS proves its excellence in building websites for dental web design firms by providing an extensive and in-depth portfolio. The agency has helped many dental offices take their practices to the next level with state-of-the-art web design and development.