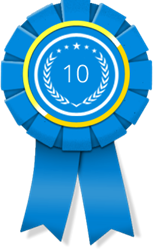 New York, N.Y. (PRWEB) January 27, 2016
10 Best Design has released their latest winners of the Best Digital Agency Awards, and the broad pool of recipients spans from the heart of the New York City all the way to the United Kingdom. Huge Inc. of New York, N.Y. occupies the top spot on 10 Best Design's list of January 2016 winners.
Top digital agencies play crucial roles in today's marketing industry, serving as innovators and leaders in PR counseling, marketing and online media services such as website development, SEO optimization, PPC campaigns, advertising and creating press releases for a variety of different companies. 10 Best Design has chosen the winners of the January 2016 awards through their tested and proven criteria of qualitative and quantitative ranking points, all part of the 10 Best Design Analytic Review process, which is overseen by a panel of men and women with extensive web development and digital experience throughout the field.
Huge Inc., which is headquartered in New York City, has offices all over the country and is expanding its business every day. As a leading digital agency, Huge Inc. is a full-service firm that provides clients everything from building a website to tailoring marketing techniques. Although Huge's work has been used by some of today's biggest companies, the agency is more than willing to work with up-and-coming businesses and help them launch their digital empire.
Other January award winners based out of New York include Big Drop Inc., Blue Fountain Media and Huemor Designs of Long Island. On the West Coast, Ueno of San Francisco and the Blitz Agency of Santa Monica came in at numbers 4 and 7 respectively. Ueno, a top digital agency that operates from both Iceland and San Francisco, provides full-service digital offerings and serves a diverse clientele of big-name clients such as Dropbox, Fitbit, Reuters, Google, Lonely Planet, Cisco, Medium, and Airbnb. They were commemorated for their unique team of dedicated design and digital marketing professionals and use of cutting-edge methods that keep their work fresh, inspiring and effective.
Across the pond, the 3 spot, while Somo Global of London was awarded the eighth-place title. Also featured on 10 Best Design's list are Chicago's Digital Kitchen and Ratio designs in Seattle, Washington.