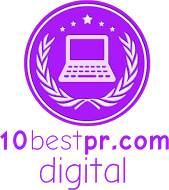 NEW YORK, N.Y. (PRWEB) July 27, 2015
10 Best PR is a popular awards website that evaluates and rates the finest public relations companies, has completed its choice for the best digital PR firm: Ogilvy Public Relations. The organization also highlighted a number of other standouts in its recent assessment of online public relations agencies. 10 Best PR closely compares the top digital public relations firms in the nation in order to offer their website readers a fair and clear analysis of the finest options available to them.
Ogilvy Public Relations in New York, New York is 10 Best PR's leading digital PR firm. The full-service firm employs social media marketing to help clients achieve their online publicity goals. Facebook and Twitter are both big tools for the team at Ogilvy Public Relations. The firm also aids clients in the creation of smart and effective press releases.
Affect in New York City has the number two spot on 10 Best PR's list. Not only does the firm focus on online public relations, but it also concentrates on both marketing and social media. Being a top digital PR firm, Affect provides services to professional services, healthcare and technology clients, for example. They help their clients create media relations approaches and electronic press kits. Other areas of expertise for the Affect team include crisis management, crisis communication and even industry leadership positioning. Affect has worked with noteworthy companies such as Panoramic Power and the Ask Partner Network.
WebpageFX is a Philadelphia, Pennyslvania-based company that is number three on the list of outstanding digital PR firms. WebpageFX works hard to aid their clients in keeping strong Internet reputations. The digital public relations agency also strives to stop online attacks on their clients from occurring. The diligent pros on the WebpageFX team carefully observe information that is being shared about their clients on popular social media websites such as Twitter, Youtube and Facebook. When they notice potentially problematic information on these sites, they act swiftly to manage it.
Other highly respected companies that are on 10 Best PR's list of the best digital PR agencies out there include Be Social PR in San Diego, California; Boostability in Lehi, Utah; 451 Marketing in Boston, Massachusetts; Beautiful Planning in New York, New York; Miller PR in Los Angeles, California; Blast in Austin, Texas; and Roar Media in Coral Gables, Florida.