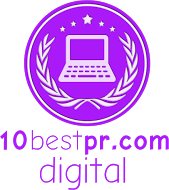 NEW YORK, N.Y. (PRWEB) June 29, 2015
10 Best PR (10BPR) is pleased to announce that it has completed its latest listing for the industry's best digital PR firms. The top three contenders are Ogilvy Public Relations, Affect and Be Social PR, and they represent companies that are at the top of their field.
In the world today, there are a number of different companies that are available to provide public relation campaigns for their clients. In the past, public relation campaigns and services were thought to only be about political campaigns and high profile companies, but that is not the case. Digital PR services have grown substantially in the past few years, and this is due to the age of technology that surrounds everyone. This field is constantly growing, changing, and being upgraded, and companies have to be able to keep up with this fast pace—especially where public relations is concerned.
10 Best PR helps individuals around the world get in touch with the best firms in the digital PR industry by carefully rating and assessing the type of work those companies provide. 10 Best PR rates these companies on a number of different areas from their monthly subscription fees to the reviews they receive for their services. Below is a description of three of the highest-ranked companies available in the digital PR industry, according to 10 Best PR.
Ogilvy Public Relations is the top online PR agency in the industry due to the excellent results that they always receive from their clients with the combination of their subscription fees. They currently operate out of New York City, and since they have joined the industry, they have always hired the best minds in the PR field to insure their clients are satisfied with their PR services.
Affect is the next online PR business on 10 Best PR's list, and they are also based in New York City. They have been in business for many years, and it is the mixture of services that they offer their clients along with its PR services that have gained them this reputation. They go above and beyond the expectations of their clients. They also help them with services like search engine optimization and online reputation management to help improve their clients' businesses.
Be Social PR is an excellent digital PR firm that is based in San Diego, California. The company has gained a reputation for always working hard to provide excellent PR services regardless of how big or small their clients' businesses might be. According to 10 Best PR, they are known for helping to increase their clients' visibility online as well as building up their audience base.