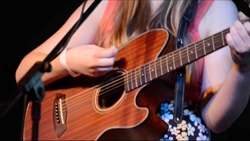 Savana, speaking about parents with a child that may begin to experiment with drugs, said, 'It shouldn't be about forcing them to do what you want to do, but making them see what's bad about doing drugs and how they can negatively affect their future.'
Mendon, IL (PRWEB) August 28, 2015
Mendon, IL, home of the Adams County Fairgrounds, was treated once again to a fun-filled evening of good music and good people, all for a good cause. In its second year, the "Music With A Mission" benefit concert was held there on May 30th, 2015, sponsored once more by Best Drug Rehabilitation. The "Mission" of "Music With A Mission" is to raise money to help fund music education programs that are severely lacking in the school districts of Mendon and the nearby town of Quincy, IL.
"We believe that our children are our most valuable resource in this country today," said Best Drug Rehabilitation founder and CEO Per Wickstrom. "Education is our number one tool in fighting substance abuse in our homes and neighborhoods. By participating in the 'Music With A Mission' event, we are helping to give kids a healthy and productive alternative to using drugs or alcohol. We are giving them even more opportunity for the future, and we are helping to shape them into the strong leaders that we will need tomorrow."
Best Drug Rehab Sponsors Music with a Mission
By sponsoring the concert, Best Drug Rehabilitation was able to help out with the costs of holding an event like "Music With A Mission", which allowed more of the proceeds from ticket sales and concessions to be put towards funding those educational programs. Headlined by several Country-Rock artists, such as Trailer Choir, Highway Run and Cadillac Three, the concert raised thousands of dollars to donate to the cause, as hundreds of people came out to enjoy the show. Wickstrom was able to speak with many of these performers before the concert, including Avenue Beat, a trio of high school seniors from the local area who hold the purpose behind "Music With A Mission" in very high regard.
"There is always that underlying pressure of what group to hang out with," said Sami in the interview with Wickstrom, "but we've surrounded ourselves with people who usually make good choices and stay safe." Savana, speaking about parents who have a child that might be beginning to experiment with drugs, said, "It shouldn't be about forcing them to do what you want to do, but making them see what's bad about doing those things and how they can negatively affect you in the future." This year's event was also the second appearance that Avenue Beat has made at the "Music With A Mission" concert.
A video of the Avenue Beat interview is available on the Best Drug Rehabilitation YouTube channel.