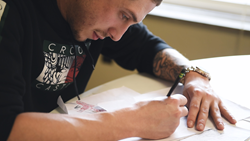 Selecting a treatment center is almost as important of a decision as making the decision to seek help is
Manistee, Michigan (PRWEB) June 16, 2016
Anybody that has ever looked for a substance abuse treatment program, whether for themselves personally or for a loved one, knows how difficult it can be to find one that will be effective. Best Drug Rehabilitation, a holistic recovery center for addiction located in Eastern Michigan, has released a new video that discusses different factors to take into consideration when making this important decision.
"Selecting a treatment center is almost as important of a decision as making the decision to seek help is," comments Best Drug Rehabilitation founder Per Wickstrom. "But, without guidance, it can be difficult to know what to look for or which questions to ask. With this video, we offer advice on finding a treatment center and program that will be effective for each individual. It is our hope that this video will help people to make that difficult decision, even if they select a different treatment center than our own, and that we can help to save some lives."
In the video, which can be viewed on the Best Drug Rehabilitation YouTube channel, many different aspects of treatment programs are discussed, with testimony from Jeremy, a patient at BDR, and Casey, one of the Case Managers at the recovery center. "I think the main reason that we're better is because of the program options that we have," Casey says. "There's three main ones that you can choose, and then we have a bunch of different Tracks and 12-Steps that you can do, from traditional to Native American and Buddhist."
What Makes a Rehab Different
Jeremy has been in a couple of different treatment centers over the years, which gives him valuable insight into what makes the BDR program more effective for him versus the other experiences he has had in treatment for addiction. In addition to the various options available to him at BDR, one of the things he found to be most beneficial to him was the lack of time constraints. "I finished SMART Recovery last week, and decided to take another program," he says. "That's great, because I felt I wasn't ready and they're not going to be like 'Well, ok, time to go'. They do care."
The unique substance abuse treatment program at Best Drug Rehabilitation was developed to take into consideration the differences in each patient that comes to them seeking help in overcoming addiction. Rather than pushing patients through the program to fit into a certain timeframe, BDR allows their patients all of the time they need to work through their program and explore all of their options to find what will work best for them. Their patients come to understand the personal responsibility that they hold in their continued long-term sobriety.
Blog: http://www.bestdrugrehabilitation.com/blog/information/making-tough- choices-how-to- select-an- effective-rehab- center/