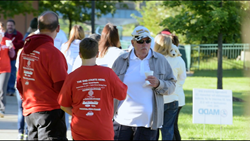 Amber, a BDR patient who participated said "I was a drinker, and I drank a lot. The realization in that walk was that I could not only have harmed myself but I could have harmed somebody else.
Manistee, Michigan (PRWEB) October 31, 2015
In a show of support for the Michigan chapter of Mothers Against Drunk Driving (MADD), patients and staff members from Best Drug Rehabilitation, a holistic treatment center for substance abuse located in Manistee, MI, joined close to 200 other people for an annual 5K fundraiser called "Walk Like MADD". On September 12th, 2015, beginning at the Sixth Street Bridge Park in Grand Rapids, MI, dozens of teams took a stroll around the downtown area, raising donations that will go towards funding MADD in its mission, which is to "end drunk driving, help fight drugged driving, support the victims of these violent crimes, and prevent underage drinking."
"One of the most important aspects of the recovery process is learning how to give back to the community," commented Best Drug Rehabilitation founder Per Wickstrom. "As our patients leave behind their old selfish ways, they become more caring and compassionate towards others and discover the rewards of contributing their time and effort to a greater cause. Participating in the "Walk Like MADD" fundraiser was a great way for our patients to put this concept into practice. We were honored to take part in this event."
While the "Walk Like MADD" event was held to benefit Mothers Against Drunk Driving and its members, there were plenty of positive aspects for those who participated. Several of the Best Drug Rehabilitation patients shared some of their experience and the things that they learned in Grand Rapids that day. "I had a friend who was hit by a drunk driver," says Ryan of the personal obligation he felt towards joining the event. "He was in a coma for three or four months, and he's still recovering. His life was almost taken because someone wanted to drive drunk."
A Day of Drunk Driving Prevention
Amber, another of the BDR patients who participated in the "Walk Like MADD" event, gave some insight to the other side of the coin, saying, "I was a drinker, and I drank a lot. The realization in that walk was that I could not only have harmed myself but I could have harmed somebody else. It doesn't just impact that one immediate family, it impacts a community." Highlights of the "Walk Like MADD" 5K and clips of the patient interviews have been released in a video on the Best Drug Rehabilitation YouTube channel.
The Best Drug Rehabilitation staff has dedicated themselves to helping the patients at their recovery center with every step that they take on the path to sobriety. The thorough and effective treatment program at the rehabilitation facility is designed to be adaptable to every person that walks through their doors, keeping in mind the differences that each patient will have from the next. With various options in treatment available to the patients at BDR, as well as plenty of off-site activities to join in, such as the "Walk Like MADD" fundraiser, the patients at Best Drug Rehabilitation find a stronger sense of confidence in their recovery and a deeper understanding of the level of personal responsibility that they hold in remaining clean and sober after graduation.
To find out more, watch the MADD Walk 2015 video: https://www.youtube.com/watch?v=lP5NrNoh6WE