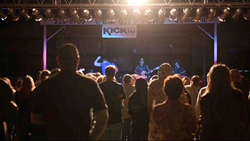 'The greatest resource and asset that we have in our country is our youth,' commented Best Drug Rehabilitation founder and CEO Per Wickstrom. 'Education is the best tool that we have in fighting this thing that we call addiction.'
Mendon, IL (PRWEB) August 31, 2015
On Saturday, May 30th, 2015, Best Drug Rehabilitation sponsored a benefit concert known as "Music With A Mission" at the Adams County Fairgrounds in Mendon, IL. The purpose behind this concert was to raise money for music education programs in the sadly underfunded school districts of Mendon and neighboring town, Quincy. Best Drug Rehabilitation's sponsorship of "Music with a Mission" helped with a portion of the cost of holding the event, allowing a greater amount of the money raised from ticket sales and concessions to go to the cause behind the performance.
"The greatest resource and asset that we have in our country is our youth," commented Best Drug Rehabilitation founder and CEO Per Wickstrom. "Education is the best tool that we have in fighting this thing that we call addiction. By supporting arts, athletics and education in our teens and young adults, and showing them that there are healthy and positive alternatives to using drugs and alcohol, we can help to shape them into the strong leaders that we will need tomorrow. We were honored to have a place as sponsor of the 'Music With A Mission' event."
Heavy rains over the few days prior to the concert had turned the Adams County Fairgrounds into a muddy mess, but that didn't stop hundreds of people from coming out to enjoy the festivities and support their cause, as the concert was relocated to the Show Barn on the fairgrounds to avoid the less than ideal conditions outside. Thousands of dollars were raised to help fund music education in the local school districts, which made the second year of the "Music With A Mission" just as successful as last year's event. This was also the second year that Best Drug Rehabilitation was a sponsor of the concert.
Music with A Mission Concert Features
The concert featured performances by several local and nationally recognized Country-Rock artists, including Avenue Beat, Trailer Choir, Cadillac Three, Madd Hoss Jackson and Highway Run. Wickstrom was able to sit and talk with many of them before the concert, including "Big Vinny" Hickerson of Trailer Choir, one of the leading organizers of the event.
Wickstrom discussed many topics relating to substance abuse and addiction, such as what these artists had seen or been exposed to in the music industry and their viewpoints on treatment and recovery. A compilation video featuring highlights of these interviews and the artist performances has been released on the Best Drug Rehabilitation YouTube Channel or click here: https://www.youtube.com/watch?v=KAW3epUenVw
Best Drug Rehabilitation was founded with the principle of giving people a choice in treatment options. Founder Per Wickstrom, after a long struggle with his own addiction and going through several treatment programs before finding one that worked for him. He realized that, since not every treatment strategy will work for everyone, he wanted to create a program that could be effective for anybody who needed help overcoming an addiction. This choice in treatment helps to create a sense of confidence and an understanding of the level of personal responsibility that each person holds in their successful rehabilitation. The recovery program at Best Drug Rehabilitation is an ideal treatment for anybody who thinks that there may be a problem with drugs or alcohol.