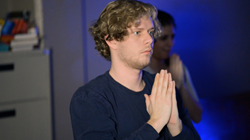 The success of the individual's treatment strategy is decided by the individual.
Manistee, Michigan (PRWEB) January 27, 2016
Best Drug Rehabilitation, a residential holistic treatment center for overcoming addiction, has released a new video that highlights the benefits of their Yoga class, one of several extracurricular options that are offered to the patients at their recovery center. Featuring footage from a class session and an interview with yoga instructor Diane Bradley, the new upload is available for viewing on the Best Drug Rehabilitation YouTube channel.
"The program at our treatment facility offers our patients a choice in the methods of rehabilitation," commented BDR founder Per Wickstrom, "which allows them to explore the different options available to them, and at their own pace, in order to discover the recovery strategy that will be most effective for them. The Yoga class is just one of those options, helping the patient to discover skills that can be used for the rest of their lives. Physically, mentally, and spiritually, the Yoga class benefits all aspects of recovery.
"In her interview, Bradley describes what a typical Yoga class consists of and examines the positive impact that it can have on the patients at Best Drug Rehabilitation. One of the most important things to Bradley about her role is the ability to open a few people up to a completely new experience. "Some of them are hesitant in trying it," she explains, "because they don't know what it is, or they have this idea in their head of what it might be. It's on a physical level, it's on a spiritual level for some, and just having a little bit of exposure to it is very helpful in the beginning of your recovery."Along with yoga, some of the other classes and program options offered at Best Drug Rehabilitation include Art and Music Exploration, Anger Resolution, and Relapse Prevention, as well as a series of Life Skills courses which help the patient learn how to cope with the stress of daily life without resorting to substance abuse. These groups and classes build on the strong foundation in recovery from addiction provided by the core program options, and reinforce the concepts and ideas with practical, real-life applications.
The Best Drug Rehabilitation program was developed with the understanding that every person is different, and that the needs of every person in a substance abuse treatment program will also be different. Offering a variety of treatment modalities and optional programs helps the patient to find the path to recovery from addiction that will be most effective for them. Additionally, they do not base graduation from the program on any time frame, but instead on positive results, allowing each patient to work through even the toughest parts of the program at their own pace. The success of the individual's treatment strategy is decided by the individual, with an understanding of the personal responsibility that they hold in maintaining their sobriety.
See full video here: https://www.youtube.com/watch?v=ncPfT7NAOoE