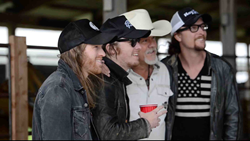 'Our nation's youth is the most important resource and asset that we have,' commented Best Drug Rehabilitation founder and CEO Per Wickstrom. 'Education of our teens and young adults is our biggest tool in the fight against addiction and substance abuse.'
Manistee, Michigan (PRWEB) August 28, 2015
On May 30th, 2015, Best Drug Rehabilitation, a results-based substance abuse treatment center located in Western Michigan, joined as sponsor of the "Music With A Mission" benefit concert in Mendon, IL. Held in the Show Barn at the Adams County Fairgrounds, the purpose behind the event was to raise money to support music education programs in the underfunded local school districts of Mendon at neighboring Quincy, IL. Now in it's second year, the "Music With A Mission" concert has been sponsored by Best Drug Rehabilitation since its inception.
"Our nation's youth is the most important resource and asset that we have," commented Best Drug Rehabilitation founder and CEO Per Wickstrom. "Education of our teens and young adults is our biggest tool in the fight against addiction and substance abuse. By providing our children with healthy and productive alternatives to using drugs and alcohol, and making them aware of the dangers of substance abuse, we can help to shape them into the strong leaders that our nation will need tomorrow."
CEO Wickstrom Talks to The Cadillac Three
Wickstrom was able to sit down and speak with many of the evening's performers before the concert, including the headlining act, a trio of Nashville natives that goes by the name of The Cadillac Three in a video just released through YouTube. They spoke with Per about some of the problems that they have seen with substance abuse in the entertainment industry. "You have to be smart enough to kind of shut it down," said Jaren Johnston, who co-wrote Keith Urban's #1 single "You Gonna Fly". "We like to keep a tight reign on it because we travel so much. But, we're around it quite a bit."
Best Drug Rehabilitation's sponsorship of the "Music With A Mission" event helped to cover a good portion of the cost of putting on the concert, which allowed more of the proceeds from ticket sales and concessions to be put towards the cause behind the function. Thousands of dollars were raised, as hundreds of people came out to join the festivities, undeterred by the muddy conditions of the Adams County Fairgrounds that had been caused by rain over the few days prior to the event.
"Big Vinny" Hickerson of Trailer Choir, another performer at the concert, was one of the lead organizers of "Music With A Mission". He has expressed his desire to find a way to raise money that took a step away from the traditional methods of fundraising, such as bake sales or raffles. In that aspect, with big Nashville names like The Cadillac Three and the other rising stars that performed that evening, the "Music With A Mission" benefit concert was a huge success.
Click here to see the full video: https://www.youtube.com/watch?v=3AxRpKwS5x8