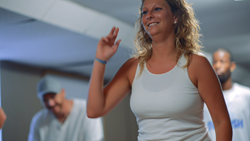 It felt awesome going and getting exercise instead of using drugs and being lazy
Manistee, Michigan (PRWEB) August 10, 2016
Best Drug Rehabilitation, a holistic treatment center for addiction located in Western Michigan, has released a new video that offers viewers an inside look at their Zumba class, one of the many program options offered at the recovery center that focuses on physical health and fitness. The video includes footage from a session of the class, as well as interviews with the Zumba instructor and a patient who participated in the class. It is available for viewing on the Best Drug Rehabilitation YouTube channel.
"Physical fitness is a vital part of the treatment program here," commented Best Drug Rehabilitation founder and CEO Per Wickstrom. "When the patient has detoxed and is feeling better physically, they are able to focus more clearly on their program. We encourage daily use of our exercise center, and offer several different classes that teach our patients different ways they can repair the damage caused to their bodies by long-term substance abuse. The Zumba class is just one of many tools that will help our patients find a healthier way of life."
Zumba was created in the 1990s by Columbian dancer Alberto Perez. It incorporate aerobic routines with traditional Latin and Caribbean music, creating a fun and engaging form of exercise geared towards building and toning muscle and improving cardiovascular health.
Lisa, the Zumba instructor at Best Drug Rehabilitation, finds a lot of personal reward in her role at the treatment center. "First of all, it's fun," says Lisa. "I enjoy when I can hear them in the back just having fun. It makes me feel good knowing that they're enjoying it."
Paige, the BDR patient interviewed for this video, shares how her participation in the Zumba class has not only helped her physical health, but also was instrumental in learning how to form healthy personal relationships, another important aspect of her recovery program. "It felt awesome going and getting exercise instead of using drugs and being lazy," she says. "I would recommend Zumba to other people, because it gets you moving and exercising, and you have fun with the other patients."
The Best Drug Rehabilitation treatment strategy offers various methods and program options for patients to choose from, allowing them to find the path to overcoming addiction that will work best for their individual needs. In addition, patients' progress through their recovery plan is not based on any timeframe, but instead based on results. This lets them work through the program at their own pace, maximizing the effectiveness of their treatment. This also gives them the opportunity to explore any of the options available to them to discover what appeals most to them, creating confidence and a sense of personal responsibility in recovery.
Video:
https://www.youtube.com/watch?v=uGEUqQXmtIk
Blog:
http://www.bestdrugrehabilitation.com/blog/video/zumba-class-best-drug-rehabilitation/