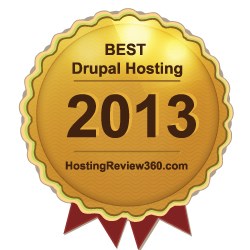 San Francisco, CA (PRWEB) November 07, 2013
HostingReview360.com, a professional web hosting review site specialized in introducing the best services for all kinds of online needs, today announced the award of best Drupal hosting based on over 3 months' review and monitoring on 100+ reputed web hosts' Drupal compatibility, features, reliability, loading speed, support, price, and the demands for future growth.
According to the overall performance of all the reviewed web hosts, the award has been presented to BlueHost because the company has surpassed all the competitors in more than one aspect.
BlueHost is a leading web hosting provider globally that is hosting over 3 million websites including 85,000 Drupal sites. For different levels of needs for resources and server control, BlueHost offers Drupal users with the choice of shared web hosting, VPS hosting, and dedicated servers.
According to the information and statistics at HostingReview360.com, BlueHost shared Drupal web hosting service has advantages in the following aspects.
Drupal compatibility. Coming with dual versions of PHP 5.3.27 and 5.4.17, MySQL 5.5.23 or higher, Apache 2.2.x with mod_rewrite, and suPHP, BlueHost Drupal hosting service is 100% compatible with all the available versions of Drupal.
Drupal hosting features. BlueHost shared web hosting package includes unlimited disk storage and bandwidth, allows hosting unlimited websites, and supports SimpleScripts, a 1-click installer that automates the installation of Drupal to eliminate the complication of manual installation.
Price. The price of the package starts at $3.95/mo for visitors going through this exclusive promotional link to claim the 44% discount of BlueHost Drupal web hosting package. The package also includes 1 free domain name, $100 Google AdWords credits and $50 Facebook ads credits.
Speed. Utilizing quality servers with 4x AMD Operton CPUs and 48 GB DDR3 RAM, high performance network infrastructure, and advanced technologies like I/O segregation, BlueHost guarantees that the average Drupal page loading time is less than 2 seconds.
Uptime. BlueHost guarantees 99.9% uptime. According to the monitoring statistics at HostingReview360.com, the company's uptime in the past 30 days is 100%.
Technical support. The company has a dedicated support team consisting of representatives with professional Drupal knowledge. They are on-site 24x7 to provide assistance via live chat, phone, and email.
BlueHost VPS hosting service is designed for medium sized Drupal sites that require better performance and more control over the server. The service is offered in 4 packages, among which the basic Standard package comes with 2 GB RAM, 30 GB disk storage, 1 TB bandwidth, 1 IP, cPanel, root access, SSH, and instant provisioning.
As BlueHost provides a 50% discount for the first month of a term, the price of the Standard package starts at $14.99/mo.
BlueHost also offers dedicated servers for hosting large sized Drupal sites. With the price starting at $74.99/mo, the dedicated hosting packages include at least 3 MB cache, 4 GB RAM, 500 GB RAID 1 storage, 5 TB bandwidth and 3 IPs. All of the dedicated servers utilize CentOS 6.4 and Xeon processors.
Read more information at this link about the Drupal hosting award and introduction.
About HostingReview360.com
HostingReview360.com is a professional web hosting review site that releases reviews for shared web hosting, VPS hosting and dedicated server hosting based on independent monitoring and real hosting experience to help webmasters find an optimized web hosting service easily and quickly.