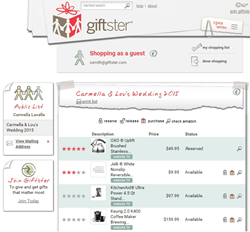 Since Giftster is not just a registry or a wish list service, let's coin a new name. How about a "Wedding Giftster" instead of a wedding registry. - Ron Reimann, Founder
Minneapolis St. Paul, MN (PRWEB) May 29, 2015
Giftster, already known for strong list privacy by requiring group membership to view list details, has released a new "shop as guest" feature set for giftster.com. This release makes sharing a wedding or baby registry a simple, fun experience for a one time visitor to a registry list.
"Shop as guest" was released as beta in early May, the roll out was smooth, so the beta designation is being lifted today at giftster.com.
Families use Giftster to create and share wish lists and gift preferences privately among family members. Now the same easy and fun-to-use list maker can be more readily used for sharing lists to others outside of their groups. This is especially useful for "one-to-many" type lists, specifically wedding registries and baby registries, where one list is shopped by many others.
Other situations well suited to Giftster now include bridal shower registries, charity needs registries, college registries and even curated lists like "best of" that could be shared publicly.
How Shop as Guest Works
A Giftster member chooses "public" list privacy for a list to automatically enable the new features. The "shop as guest" experience for the list maker includes:

List making at giftster.com with the popular fetch button to automatically add items by just pasting the web link.
Gift preferences page where specific tastes in color or design are expressed, also including a package mailing address if desired.
Add gift ideas from any online store, or include general requests like "contemporary art posters" for example. Each item can include a link that takes the visitor to the online store where the item may be purchased.
A unique web link for the list - include on an invitation, or post on Facebook. Or guests can find the list by searching at Giftster.
The experience for the guest shopping the list maker's list:
Discover the list online by searching Giftster, or with the unique link shared by the list maker.
Browse the list details, including images, price, suggested store and a web link if provided by the list maker.
Select "reserve" or "purchase" to shop the list, and mark an item so others know it is already taken.
Locate and purchase the item following the list maker's web link. Or decide to purchase it somewhere else.
View the package mailing address if provided by the list maker.
Return to the same list using a convenient link provided by Giftster if the guest changes their mind.
View gift items marked reserved or purchased, from any number of lists the guest might shop, all in one place, called "my shopping list", for ease of tracking.
All of this is made available to the list maker's guests, without requiring the guest to have their own Giftster membership.
About Giftster
Giftster is defining the standard for a permanent, lifetime gift registry for families and close friends. Giftster is the central place for families to post and maintain shared wish lists and gift preference profiles, accessible only to members of that family. Giftster is independent of any one retailer, and one member of the family administers the group to maintain privacy and decide who is included in each group and gift exchange.
Now with the just released "Shop as Guest" features, Giftster lists are also are the go-to choice for wedding and baby registries.
Giftster synchronizes instantly among versions for the web at giftster.com, for iPhone at Apple iTunes, for Android at Google Play, and other browsers on smartphones and tablets with http://m.giftster.com.
As of May, 2015 Giftster activity is again up 300% year over year, and additional capabilities most requested by members are under development.
###
Giftster is a registered trademark and "lifetime gift registry" is a trademark of MyGiftster Corporation. Press resources located at http://www.giftster.com/press/.