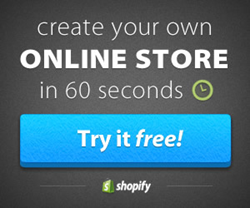 Portland, OR (PRWEB) March 05, 2014
In today's marketplace, the need for businesses to offer their products and information online in order to stay ahead of their competitors and reach the widest audience is ever increasing. The importance of using specialized ecommerce platforms to accomplish this task has caught the attention of Richard Brown, prompting an investigative review of the best market options.
"There are several different ecommerce platforms that provide thousands of online businesses with shopping cart software, but sorting through all of the information to determine which is best for a particular business can be daunting," reports Brown. "With this review, we've evaluated the top ecommerce platforms on the market to help site owners make the best decision about which option will most benefit their business."
Learn more about ecommerce platforms right here.
In today's ecommerce marketplace, Volusion, Shopify, and BigCommerce are the big players, together servicing hundreds of thousands of individual ecommerce websites. Many of the services offered by these three market leaders are identical, for example, none charge additional setup, licensing, or transaction fees on mid-level plans. All of these plans also offer unlimited numbers of items for online stores, as well as mobile-friendly websites, fraud protection tools, comprehensive help and support resources, and marketing tools to help websites attract customers. All offer a wide range of available pricing options depending on the capabilities businesses need for their online stores. On average, these plans range from $14-$199 per month. While these three ecommerce platforms are very similar in many aspects, there are a few key distinctions that make certain providers more appealing than others.
"As we evaluated the individual offerings of these providers, we determined that Shopify definitely offers a more comprehensive lineup of tools and services for online stores," says Brown. "Not only is this evident by Shopify having the obvious market share in the ecommerce platform environment—servicing more than 90,000 sites—but the wide availability of website themes along with hundreds of available apps for additional business automation makes this platform the obvious choice."
"By using Shopify, site owners will save an impressive amount of time while setting up and managing their online stores. The tools this platform offer are designed to make site management simple, while offering a comprehensive platform that keeps customers happy and wanting to come back to the site time and time again."
Those wishing to purchase Shopify software for their ecommerce store, or for more information, click here.
To access a comprehensive top ecommerce platforms review, visit http://ecomreviewed.com.