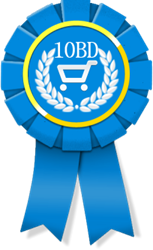 SAN FRANCISCO, Calif. (PRWEB) October 27, 2015
10 Best Design has inaugurated a new monthly award by announcing Big Drop Inc., Dotcomweavers and Blue Fountain Media as the 10 Best eCommerce Web Design Firms for October 2015. The California-based 10 Best Design is made up of professionals from around the nation with years of experience in online branding, web design, and development. The company maintains its Analytic Review that uses qualitative and quantitative data to determine the top agencies in the web design industry.
October 2015's top eCommerce web design firm is Big Drop Inc of New York, NY. The company claimed this award by excelling at launching virtual stores regionally and nationally. Using Magento as a top platform, the company creates online shopping carts and databases for the businesses it serves. Big Drop Inc also develops and maintains great relationships with shipping companies such as FedEx. These partnerships allow Big Drop Inc to maximize shipping systems for its clients. 10 Best Design congratulates their professional colleagues at Big Drop Inc for making a successful contribution to the eCommerce web design industry.
Placing second and third among the best eCommerce web design businesses this month are Dotcomweavers of Paramus, N.J., and another New York City company, Blue Fountain Media. Dotcomweavers helps small business people expand their e-commerce activity by providing affordable templates that make online store building easy. Blue Fountain Media is a leading eCommerce web design firm that assists merchants by loading products into online catalogs and then syncing the catalogs to other online features such as shopping carts and shipping platforms.
10 Best Design uses its 10 Best Design Analytic Review Algorithm to determine its top 10 awards. The algorithm encompasses research on design firms' clientele with reviews, any previous awards earned, SEO rankings, and site traffic. As a testament to its values, the 10 Best Designs website features a quote from the late Steve Jobs, "Design is not just what it looks like. Design is how it works." The company's 10 Best Design Awards honors excellence in the industry while helping businesses and consumers know which design firms are working best.