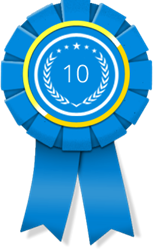 NEW YORK, N.Y. (PRWEB) June 22, 2017
10 Best Design is pleased to announce the winners of its newest award category: Best eCommerce Web Design Firm. For June 2017, Big Drop Inc, Blue Fountain Media and Dotcomweavers garnered the top three positions.
The professionals of 10 Best Design are committed to offering clients knowledge, resources, and tools that will link them to the ideal digital marketing agency. As such, the representatives of the organization are passionate about devising new award categories that provide the public with information regarding companies that excel in providing people with effective and expedient digital advertising services.
Not surprisingly, Big Drop Inc assumed the top position on the list of best eCommerce web design firms. Big Drop Inc is the company to contact for business owners who insist on outperforming their competitors in the online world. The Big Drop Inc professionals are committed to excellence, and this is why they place primacy on offering cutting-edge, customized web design and development services that yield substantive results. To ensure that the sites they create are mobile-friendly, the Big Drop Inc representatives implement high quality, proven responsive web design services. They also optimize sites for key elements like engagement, usability, and visual appeal. Businesses should choose Big Drop Inc to begin obtaining dynamic, detail-oriented web optimization services that work instantly.
As a top eCommerce web design firm, Blue Fountain Media is the organization business owners should communicate with when they are ready to optimize their influence and authority in the internet realm. The representatives of this site development firm place importance on developing sites that are conspicuously original, thereby ensuring that the business owner's brand will stand out and generate intrigue among members of the target audience. Additionally, Blue Fountain Media's professionals utilize proven responsive web design techniques to ensure that the business owner's product pages can be easily accessed by people who use mobile devices. Whatever the site optimization need, Blue Fountain Media can provide a solution.
Another leading eCommerce web design firm, Dotcomweavers is the web design optimization team business owners should trust when they are ready to make their company increasingly successful in the online world. The professionals at Dotcomweavers are committed to making websites holistically excellent, and this is why they focus on perfecting every aspect of the client's site. This includes its level of usability, engagement, mobile friendly, and aesthetic engagement. Additionally, the Dotcomweavers community knows which SEO strategies to implement for the purpose of making the website increasingly visible to members of the target audience.
For more information about the award winners, please visit http://www.10bestdesign.com.