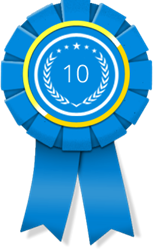 NEW YORK, NY (PRWEB) July 23, 2015
10 Best Design is a leading website that routinely awards companies for their achievements in the eCommerce web design field. Recently, 10 Best Design named Big Drop Inc. as one of its top eCommerce web development agencies, along with several other firms. 10 Best Design frequently updates its readers with new choices in the best eCommerce web design firm options that are available.
Big Drop Inc. of New York, New York is 10 Best Design's first pick and a first-rate eCommerce web design firm that aims to help clients increase their profits smoothly and efficiently. Responsive web design practices, as a result, are a major focus for the Big Drop Inc. team. The firm makes it easy for potential customers to visit their clients' eCommerce pages no matter what type of electronic device they're employing. Graphic design is yet another major focus for this firm. When they work on pages for their clients, they aim for uniqueness.
Dotcomweavers in Paramus, New Jersey is 10 Best Design's second choice for the finest eCommerce web development agency. Dotcomweavers' savvy professionals assist their clients in pinpointing their target audiences and then creating campaigns that speak to the things they care about the most. Analytics and research are both significant components of Dotcomweavers' dedicated eCommerce and web development practices. They make online marketing campaigns that are extremely customized and thorough.
As a leading eCommerce web development agency, Blue Fountain Media—also of New York City—prioritizes modern and fresh methods of spreading the word about their clients. Conversion and visibility are both areas of concentration for Blue Fountain Media. When they create websites for their clients, they focus on carving out one-of-a-kind identities for them. Keyword assessment, link building and SEO (search engine optimization) are all specialties for the staff members at Blue Fountain Media.
10 Best Design's other choices for the best eCommerce web development agencies out there are Maxburst in Farmingdale, New York; Forix Web Design in Portland, Oregon; The Creative Momentum in Atlanta, Georgia; Kohactive in Chicago, Illinois; Inflexion Interactive in Hoboken, New Jersey; Isadora Design in Manhattan Beach, California; and Old City Press in Washington, D.C. While all of these firms are equipped with their own distinctive approaches to eCommerce success, they share a common goal. That goal is to help all of their clients significantly enhance their Internet presences.