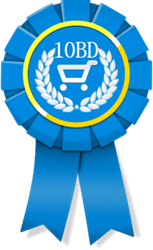 New York, N.Y. (PRWEB) January 25, 2016
10 Best Design, an organization made up of a group of people who specialize in assessing firms that offer eCommerce web development services, has released its picks for the best providers in the industry for the month of January. 10Best Design recently established the monthly award to honor these kinds of marketing companies.
Their pick for January's top eCommerce web design firm is Big Drop Inc. of New York, N.Y. Big Drop Inc. is a celebrated Big Apple firm that excels in eCommerce web development, with a particular emphasis on using open source technology. The priority for this company is to make eCommerce sites that owners can quickly and efficiently update later as needed. The employees on the Big Drop Inc. staff work hard to ensure that their eCommerce techniques always are at the forefront of digital technology advancements. Many clients enjoy working with this full-service marketing company's hard-working, driven, ambitious and talented professionals. Impeccable customer service is always valued by this firm.
Dotcomweavers of Paramus, New Jersey is in the number two spot on 10 Best Design's January list of leading eCommerce website development agencies. The people who work for Dotcomweavers are highly adept at helping businesses succeed in fast-paced online environments. The firm employs in-depth content management systems that help them set up streamlined and effective Internet stores. Dotcomweavers also offers clients convenient and experienced web hosting assistance.
Top eCommerce web design firm Blue Fountain Media, which is also located in New York City, was chosen to fill 10 Best Design's third-place slot. Digital marketing is the primary topic for the Blue Fountain Media team. Although the professionals who work for this company indeed specialize in the world of eCommerce website development, they also excel in mobile application development, web design, search engine optimization and Internet marketing consultations. This agency has many large well-known clients, as well as smaller clients.
10 Best Design's January 2016 selection consists of other reputable eCommerce web development and design firms such as Maxburst in Farmingdale, New York; Forix Web Design in Portland, Oregon; and The Creative Momentum in Atlanta, Georgia. These agencies are all modern and capable eCommerce powerhouses.