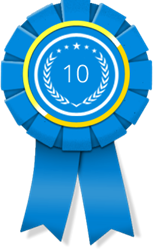 San Francisco, CA (PRWEB) January 24, 2017
10 Best Design is pleased to announce the winners of its Best eCommerce Web Design Firm awards for January 2017, with Big Drop Inc taking the top honor.
10 Best Design is a company based in San Francisco, California that focuses on web design, online branding and app development. Their team is made up of experts who are well versed in many coding languages, such as HTML and PHP, search engine optimization and online branding. These skills give them the credentials to know which eCommerce web design companies are top quality and which ones need a bit more work. The Best eCommerce Web Design Firm Awards are a new monthly award that were ranked based on a complex system of quantitative and qualitative statistics, and occasionally listing fees as well as other things.
Big Drop Inc is the best eCommerce web design company for January 2017. The company is based in Manhattan and focuses on designing and managing online stores for clients in New York City. It is a web design company that has launched successful web stores for both corporations and small businesses. Big Drop Inc strives to make the entire process personal, and for the best results the company really gets to know its client's business and brand. By working closely with the business, Big Drop Inc can provide personalized strategies for each of their clients.
The number two winner awarded for excellence in the field of eCommerce web development is Blue Fountain Media. Blue Fountain Media is a top eCommerce web design firm that is based in New York City and focuses on working with those within the metro New York City region. They are a full-service digital agency that succeeds in helping companies build their brands online. Blue Fountain Media not only offers amazing results when it comes to making online sales for their clients. They also offer strategy and consulting expertise, help with both web design, mobile design and video production, and assistance with online marketing. While they are based in New York City, they have three offices throughout the country.
These are only snapshots of two of the ten winners of the new monthly awards highlighting great eCommerce web design companies, judged and put together by 10 Best Design. Next month, there will be a new list for another set of excellent eCommerce web design firms.
For more information about this month's award winners, visit http://www.10bestdesign.com.