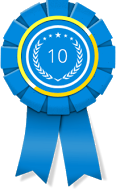 NEW YORK, N.Y. (PRWEB) August 23, 2016
10 Best Design is pleased to share its monthly rankings of the industry's 10 best eCommerce web design firms. The winners in this category are Big Drop Inc., Blue Fountain Media and Dotcomweavers.
There are a lot of modern businesses that could benefit from a professionally-developed eCommerce website, but there are so many web design firms out there that it can be hard to decide which is the best. Most eCommerce websites are exceptionally complex compared to other informational-based sites, which means the web designer will need greater skill to accomplish the task. With so many options out there, businesses should be wary of hiring a subpar designer. That's why 10 Best Design has started a new monthly ranking award system.
10 Best Design strives to keep the public up to date on the changing tides of the online marketing industry, and they have promised to update their findings every month. They rank the top 10 design firms based on a number of metrics that they use to calculate overall efficacy of the firm. The top few winners are described below.
Big Drop Inc, the best eCommerce web design agency, is a proud producer of premium eCommerce sites. The system they use is open-source in nature, which means it can handle a whole host of functions on the internet. They even have the ability to launch campaigns that will help boost traffic to the eCommerce site. Big Drop Inc is headquartered in New York City, and they serve businesses throughout the state of New York.
Blue Fountain Media took second place on the roster of top eCommerce website development companies for August of 2016. They are often called one of the leaders of the eCommerce web design industry, and they serve clients from all over the world. They only hire the most professionally trained staff members, and their dedication to premium quality is second to none.
Dotcomweavers, a top eCommerce web design firm located in New Jersey, has a reputation that extends throughout the United States. They have built websites for a number of large-scale businesses, and their ability to produce eCommerce sites that are friendly and intuitive is what made them so popular in the first place.
For more details concerning this month's winning companies, visit http://www.10bestdesign.com.