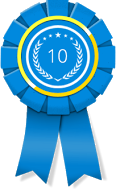 San Francisco, Calif. (PRWEB) April 19, 2016
10 Best Design is thrilled to announce its April 2016 selections for the Best eCommerce Web Design Firm awards, touting Big Drop Inc. as the winner. Their monthly list recognizes companies that have made strides in the industry to emerge as leaders in eCommerce web design. The vast number of web design companies can be overwhelming. The list is essential for any businesses interested in finding the best eCommerce web design firm.
10 Best Design consists of front-end designers, back-end developers, and online marketers committed to finding the best design firms. This team of experts tirelessly researches web design, architectural design, and graphic design companies. Their diligence has made 10 Best Design an important resource for businesses interested in solutions for their web design and development needs. Businesses around the world are able to use the rankings and reviews provided by 10 Best Design to compare the technical and design skills of high-performing companies.
To find the top eCommerce website development company, 10 Best Design uses a wide range of qualitative and quantitative statistics that include client research, online research, reviews, previous accolades, traffic and other SEO rankings, proprietary analytics, and other ranking sources. The results are then calculated and only exemplary companies that meet the rigorous criteria are considered for the Best eCommerce Web Design Firms.
Notable companies like Big Drop Inc., Blue Fountain Media, and Eight25Media make appearances on this month's selection. These companies represent a unique, exciting combination of innovative thinking and cutting-edge design.
Big Drop Inc. is a renowned Manhattan-based company that has garnered the attention of Fortune 500 companies. Big Drop Inc. is a leading eCommerce Web design business that is renowned for its outstanding capabilities in commerce development and marketing.
Blue Fountain Media pairs affordable open source technology with a team of experts in business, finance, and marketing. The company uses its expertise to successfully launch online stores for local markets. This makes it one of the most versatile firms on 10 Best Design's roster of top eCommerce Website development companies.
Eight25Media, a top eCommerce Web design business based in Silicon Valley, specializes in providing custom solutions for business websites and mobile applications. These solutions blend innovative technology with high-end design to achieve significant increases in business activity.
More information about these companies and others that appear on the list can be found on the 10 Best Design website at http://www.10bestdesign.com.