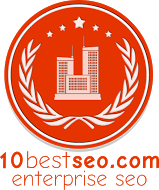 MESA, Ariz. (PRWEB) October 20, 2016
10 Best SEO recently presented awards to some of the industry's leading enterprise search engine optimization firms, giving Digital Current the top honor in this category for the month of October.
Search engine optimization, or SEO, is one of the leading methods for increasing brand recognition, reputation, and general visibility on the internet. Enterprise businesses can especially benefit from SEO since it allows their name to spread throughout the web much faster and with much higher success rates. There are numerous firms out there that claim to offer the very best in SEO services for enterprise businesses, but which ones are actually providing the best services? That is a question that 10 Best SEO wants to answer and is more than capable of doing so thanks to their algorithmic system.
10 Best SEO uses some of the most complex mathematical equations in the world to accurately weigh the efficiency and overall effectiveness of the leading SEO firms. Their system then ranks these firms based on their performance, and only the very best firms are even scrutinized at that level. A list of the top 10 SEO agencies will be released at the start of each month, and the top three winners for October of 2016 are listed below.
Digital Current, the best enterprise SEO company for October of 2016, is one of the most well-known names in the digital marketing industry. They are located in Mesa, Arizona, and their services are available throughout the world. They have proven time and time again that they can deliver results, and their prowess has earned them top-tier clients like Lowe's, Nickelodeon, and Farmers Insurance.
Boostability, the second-best enterprise SEO agency for October is a firm headquartered in Lehi, Utah. They focus primarily on SEO, so their services are second-to-none in the industry. They work hard to drive new traffic to a website based on the type of customer base the brand dictates, and they have a professional team of writers that can craft content that is perfectly suited for a specific brand.
WebpageFX also made the list of leading enterprise SEO companies for October. Based out of Philadelphia, WebpageFX primarily focuses on SEO, but also offers other top-class digital marketing services. They offer social media marketing, pay-per-click ad management, link building services, and many other premium digital marketing services.
For more information about the award winners for October, visit http://www.10bestseo.com.