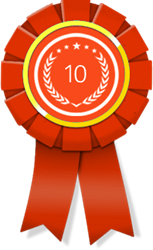 WASHINGTON, D.C. (PRWEB) April 26, 2017
10 Best SEO has chosen the April 2017 winners of its Best Enterprise CRM Software award, with WebpageFX, Higher Visibility and Boostablity named as the industry's premier companies.
Businesses of all sizes need to be aware of the pitfalls of the modern online marketplace, and one of those pitfalls is a lack of comprehensive digital advertising methods such as search engine optimization. SEO is the idea that websites can be optimized to appear higher in search results, which makes the brand much more visible in comparison to others in the industry. There are a myriad of agencies out there that claim to offer the best SEO services, but how can enterprise businesses with so many moving parts find the proper agency for their needs? 10 Best SEO seeks to provide an answer to that question.
10 Best SEO collects data on the most popular and well-respected members of the SEO industry every single month, and they use that data to rank those members by quality and popularity. They use complicated metrics and advanced algorithms to create their monthly top ten lists, and the top 10 winners for the month of April have recently been revealed. The top three winners are given in detail below, and the full list of all ten winners is available online.
WebpageFX, considered to be the best among the top enterprise online marketing firms, is a leader in the digital marketing and web design industry. They have the ability to perfectly update any existing website so that it will show up at the very top of search results for a wide variety of related keywords. The company's skills are highly regarded by many of the leading firms in the industry.
Another top enterprise SEO agency, Higher Visibility, appears second in the ranking for April 2017. Higher Visibility is a firm that works to help their clients find new levels of visibility and recognition through social media and search engines. They understand how to create proper link chains and pathways for potential customers to find and use, which will help convert leads into sales.
Boostability is excellent at helping their clients find new markets while sticking to the audiences that made them popular in the first place. Being a leading enterprise SEO agency, Boostability has amazing customer satisfaction ratings, and they constantly strive to be better at what they do. Their skills are more than adequate for enterprise businesses.
For more information about the winners of the award, please visit http://www.10bestseo.com.