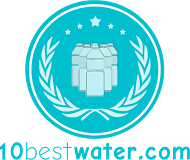 New York, New York (PRWEB) March 25, 2015
10 Best Water regularly issues awards to various water brands that represent leaders in their industry. Recently, 10 Best Water released a list of names for the Best Filtered Water Brands to honor top-tier companies in the business.
Determining the 10 best filtered water brands is a challenging task that has been expertly completed by the individuals connected with 10 Best Water. The team involved is part of an organization managed by Alcohol Aficionado, which is an integral component of the spirits-rating field. Filtered water has a fan club all its own; however, when looking at which one is considered to be the best filtered bottled water brand, it makes sense to figure out exactly what factors go into the overall equation. Invariably, taste, crispness and ability to refresh are three aspects that make up every judgment. Therefore, the 10 Best Water staff has plunged ahead to offer their selections, with each one bringing with it an array of delights. Three of the offerings are spotlighted and explained in more detail below.
Smartwater is the first of the three leading filtered water brands. Smartwater's vapor distillation process helps enhance the purity of the filtered water that is delivered to the consumer. That's because any impurities are expunged, which leaves a taste that's equal parts crisp and clean, with water that's clear as glass. The addition of electrolytes via the filtration process makes this a filtered water that exudes healthiness and refreshment.
Evian is another top filtered bottle water brand. Evian's genesis lies in the snow-capped mountains of the French Alps and involves travels that have spanned centuries. Through its combination of layered rock formations and natural minerals, the resulting filtration is natural and helps keep what's eventually bottled free of contaminants. With no enhancing chemicals added either, what's delivered is the purest form of filtered water available.
Tibet 5100 is also a shining example of a leading filtered bottled water brand. Tibet 5100 is aptly named, since its origins stem from high above Tibetan sea level at Glacial-Spring, Tibet. As such, the words "purity that delivers" could be a true slogan of Tibet 5100. While enjoyable simply as a refreshing offering, Tibet 5100 is also an experience that captures a new sense of being. That can manifest itself through a more energized body, a more active mind or a more purified soul. Filtered water brands can be taken for granted, given the many options open to the general public. However, when push comes to shove, finding the very best in this category is an expedition that's undertaken by the staff at 10 Best Water to make sure that the finest examples get their due.