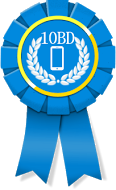 SAN FRANCISCO, Calif. (PRWEB) August 18, 2016
Recently, 10 Best App released the names of the winners of its Best Finance App awards for August 2015. The latest group of winners are Concur, Acorn and Spendee, which are all worthy competitors.
Finance applications have grown in popularity thanks to the advent of the smartphone. These helpful programs can be easily downloaded and filled with pertinent information, which allows them to precisely determine the best budget for the user. Having every bit of financial information right in a smartphone helps protect against identity theft, helps maintain a budget, and allows investments to be tracked. These apps are all over the marketplace, so it can be a bit of a chore to determine which is the most likely to offer the services a user might need. That's where 10 Best App comes into play.
10 Best Apps offers a monthly award program that ranks the top 10 best finance apps available on the market. They rank the apps through the use of a complex set of equations that balances the overall efficiency of each app against the others in the list. The result is a foolproof method of ranking the best finance apps on a real-time basis. The winning results for August of 2016 have already been announced, and the top three winners are listed below.
Rated as the best finance app, Concur is well-known throughout the personal finance world. The app focuses on keeping track of daily spending habits and unusual expenses to provide a comprehensive overview of the user's finances. It's helpful for those who don't have the time or the patience to sort their finances. The primary users of the app are businessmen with busy schedules and complicated finances.
Acorn took second place as one of the leading iPhone finance programs, and it provides something that many others apps cannot. The app is a micro-investing platform for taking spare change from a bank account and investing it automatically into the preset markets. The app can be easily controlled to manipulate the rate at which money is transferred from the bank account to the investment account.
Spendee is perfect for those who have a hard time controlling their frivolous spending. As a top finance app, Spendee keeps track of every single item bought by the user, regardless of size or cost. It allows the user to keep precise financial records.
For more information about the winners, visit http://www.10bestapp.com.