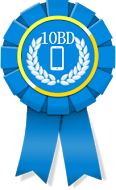 SAN FRANCISCO, Calif. (PRWEB) February 16, 2016
The top 10 makers of the best cellphone finance programs for February 2016 were recently announced by 10 Best App. The companies were selected for their excellence in the field of mobile financial applications, which enable users to employ their cellphones to manage their money on a daily basis. This is a new monthly award for 10 Best App.
The award-winning applications make it possible for users to conduct operations such as drawing up budgets and tracking spending in real time, checking on real-time investment performance, moving money into and out of accounts, and setting up financial goals. The benefits are clear. Because cellphones are so portable, users are able to check their finances wherever they happen to be and when they need most to do so. When making a major purchase, or conducting a financial negotiation, for example, a user can obtain an immediate personal financial update or move money to complete a transaction.
However, it is difficult for cellphone users to know which companies are the top producers of financial applications. Downloading several and trying them out can be costly and time wasting. To make it easier for users, the team of experts at 10 Best App have gathered information on the top companies and tested the applications to determine how they shape up in terms of performance. The result is a valuable ranking of the top cellphone financial apps. 10 Best App's website not only names and ranks the companies, but also outlines the services each one provides so that users can select the company that best meets their objectives.
Rated as 10 Best App's top finance app is Concur. The company says it sorts users' finances so they can easily be viewed on a phone or other mobile device. This gives users a level of power over their money that they, otherwise, would not have.
Second on the list of top cellphone finance applications among android apps is Acorn. The company says its product lets users manage their finances and track their investments on the go. Users can study a portfolio compiled for their needs and then decide on an investment plan that meets those requirements as well as fits their budgets.
Third on the list is Spendee, a leading finance app that enables users to share wallets with family and friends. They can also use the app to design budgets and track their finances, which can help them stay on top of their finances.
For more information, visit http://www.10bestapp.com.